Latest update: 31st October 2019
EXTRA EXTRA! READ ALL ABOUT IT!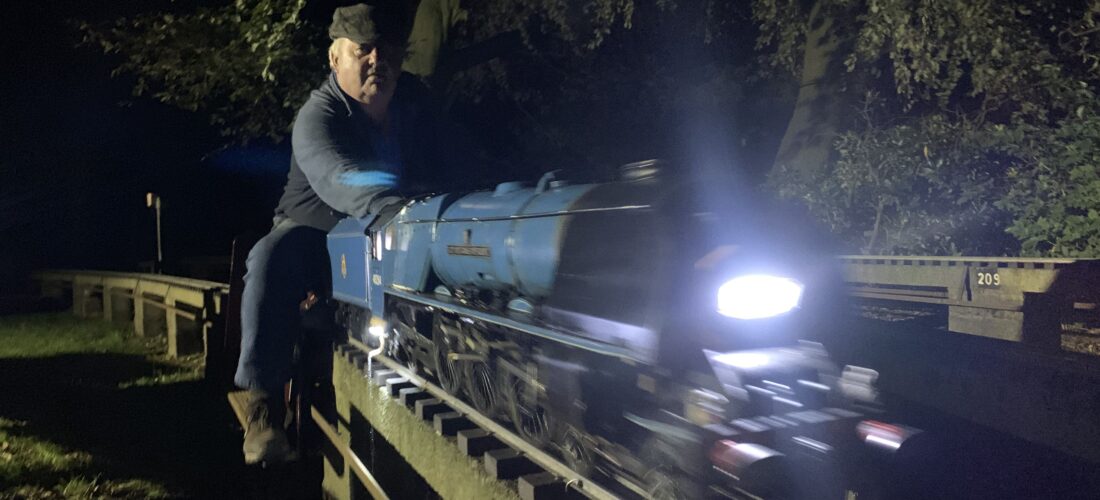 Welcome to the November Daresbury Gazette – Winter has truly arrived upon the track at Daresbury with short days and long dark nights with minus cold temperatures
Thursday December 5th from 8:00pm we have our fourth WDMES Talk of the season about the "Galtieri and my part in his downfall" by Guest Speaker: Mr Caroe (at the St Mary Magdalene's Church Hall, Appleton) – we hope to see many members at this event – More details of this event and future events can be found here
Rain Rain and more Rain (go away Rain!), what a rotten couple of months we've had. For weeks now the turn out on Wednesday's and Sunday's has been quite dismal as not much work going on other than constant leaf removal.. Duncan and Bruce are still toiling away trying to complete the final lot of signals on the bottom half of the track. At long last I have managed to achieve a successful run with my Midland Single wheeler affectionately known as the rail grinder !! On my first lap I came down past the old club house and there I saw a new signal ! showing a single yellow and a red . This signal allows you to proceed to the next under caution a really great effort by our S&T gang well done both of you. Back to the rail grinder I successfully ground my way round ten laps before retiring due to a purple face much akin to Gonzo on the muppets.
Due to the sudden passing of Mr T Chaplin our talk on November 7th was hastily rearranged to a talk by Gerry Minchin about "How Helicopters work?", this turned out to be a really fascinating insight to the mechanic's of these wonderful machines and all the complexities surrounding the rotors with very little in the way of props to demonstrate the actions of the rotors and how they create lift his arms were flaying all over the place but everyone who attended found the subject very informative.
Whilst we are on the subject of our meetings I was contacted by the powers that be at Mary Magdalen's church to visit the hall for a demonstration of the new PA system so I immediately contacted Tom our electronics guroo to attend. The church has gone too great expense to fit a completely new system it's really good and we are to be trusted with it. So this Thursday we will be having our first shot at showing it off. Our subject this month is "Galtieri and my part in his downfall" by Mr Caroe, I'm sure this will be a great talk so come along and enjoy.
The church has also fitted a electronic display board in the hallway this is intended for all the groups who hire the hall to display their activities etc to try and generate interest within the church community which can only be a good thing for us so let's take advantage of it and you never now we may be able to convert them!
As you all know it gets for ever harder to gather material for me to write about so lets have some thoughts. One suggestion was a list of mainline steam through Warrington so Steve Hudson it's up to you.
Patrick

Other related Daresbury Gazette articles:
<< Back to Daresbury Gazette
Popular tags across the Daresbury Gazette
More recent articles from the Daresbury Gazette
More Daresbury Gazette articles in the Archive
2017 Daresbury Gazette
2016 Daresbury Gazette
2015 Daresbury Gazette
2014 Daresbury Gazette
2013 Daresbury Gazette