2017 Daresbury Gazettes
17 December
Nearly Christmas and there is no let up in the atrocious weather.
Parking at the track is still a major problem, something that we
need to discuss with our land lord in the new year. I've just finished
watching Countryfile and the weather looks promising for this
Wednesday for a last meet up before 2018.
Andrew Marsh has been busy building the formers for supporting the
brick work when we come to finishing the tunnel entrance. I think the
signal and telegraph dept have now commissioned the new colour light
signalling around the track. A job very well done, no doubt there will
be reams of operating instructions to follow. So any driver reporting
anything wrong do so at your peril.
December 7th was our first meeting at St Mary Magdalane church hall.
Our first night got off to a sticky start, it is a tight turnover from
the group who use the hall before us but they departed dead on time.
Then there was a hick up with the projector which young Tom sorted out
and we started 15 minutes late.But we had a good turnout for a talk on
Hitler's boat train by Mr P Prydderch. It was a fascinating talk on
Hitlers ambition to build a broad gauge railway capable of hauling
huge freight trains across Germany, but that's all it came to. Our next
meeting is a natter night on Thursday21st so we can have a play with
the projector to iron out any further problems.
Yesterday we received some devastating news. Our great friend Bob
Chedzgoy has had a very bad fall. Apparently he has fallen down the
stairs in his home and is now in Aintree Hospital receiving
treatment. We are awaiting further updates which we will pass on. I'm
sure we all send our wishes for a speedy recovery.
WISHING YOU ALL A VERY MERRY CHRISTMAS
AND FULL STEAM AHEAD FOR THE NEW YEAR 2018.
02 December
Not much to report track wise due to the muddy state of the parking
area. Everyone but the eternal die-hards chose to stay at home in the
warmth of their sheds.
November 16th's "natter night " was our very last meeting at the
Pewterspear pavillion. During the evening there was an impromptu
committee meeting to co-opt an interim club treasurer as John
Entwistle decided that he could no longer carry on and resigned on 13 November. There were two candidates who bravely volunteered to stick there heads above the parapit. Pete Sutton and Frank Laycock, Pete a member for 10 years but not
seen on a regular basis due to his need to nurse his wife Jo who sadly
passed away recently, responded to the call on the basis that if the
club was stuck he would gladly take over the position. Frank also let
it be known he would also step in. Frank better known for being Bob's
tea making apprentice was duly co-opted onto the committee. Our
President Henry Woods thanked Pete and asked for a show of
appreciation from the members.
Thursday 7th December we move to our new venue, St Mary Magdalene
church, Bridge Lane Appleton. Everyone by now should have seen the
directions to the hall. We haven't given a post code due to the fact
you will end up in the middle of the housing estate.
Our speaker for the night will be Mr. P. Prydderch on the subject "
Hitler's boat train ", I'm sure this will be a most entertaining talk.
So let's have a good turn out for our inaugural meeting where there
will be lashings of hot tea and chocolate gateau. If by some reason
you find your self lost on the night call 07976738565 and we will talk
you down or why not have a run out in the daylight and familiarize
yourselves with its location.
Also from Duncan.
Signalling is functionally finished. Yippee! My fingers are starting to
thaw out, it was cold up there today. Next week I will remove the
redundant post and I can then move on to something else. You will notice
that when a train clears the final section (going down the long cutting
past Daresbury summit) the final signal goes to yellow for a few seconds
before going to green even tho' there isn't a following red. This is
just to remind drivers that there is a train in the next but one
section. Don't keep telling me it's faulty when it's doing what it should.
12 November
Winter has now started to grip our Daresbury site and the car parking
area is now quite muddy. We have a verbal agreement with the landlord
to put down cinders from Paul Caldwell's drying plant if and when Paul
can manage to transport them.
Another development came to light when our club treasurer John
Entwistle received a letter from the people who manage the pavilion
where we hold our meetings of a considerable rise in our rent. A
committee decision was made to look for an alternative venue. After
many phone calls and visits we have found another Hall.
On December 7th we will move to St Mary Magdalene church Appleton not
too far from where we are at the moment. The church is on Bridge Lane
Appleton WA43AW. easly accessible from the A49 London road. There is
car parking right up to the door plus really good disability access.
One of many advantages of the new venue is we will not have to clear
up the tables and chairs after our meetings. Also there are excellent
video projection facilities and a nice new kitchen with constant
boiling water. The church are very pleased we have taken up there
offer and so much so we have had inquiries about membership so it's a
win win.
At our next meeting I will be on hand to help anyone with directions
to the new venue
Our club chairman Roger Hall has undergone his pre medical checks and
they have found him fit for slaughter oop's I mean to under go his
spinal surgery. Roger goes into hospital on Tuesday for surgery on
Wednesday if all goes well he should be home on Friday or sooner if
they are fed up of him. Roger i'm sure everyone wishes a very
successful outcome but don't expect any flowers.
Finally as you are all aware our Treasurer John Entwistle has
expressed his desire to retire at the end of our financial year 31st
December. We are open to anybody wishing to take on this roll if you
are interested please get in touch with one of the committee.
23 October
Not much to report for this issue as far as track running is
concerned. Apart from an impromptu radio controlled freight wagon day.
Due to unforeseen circumstances our star attraction i.e. Barrie Purslow's
Black five didn't turn up and it was left to Brian Elston to do the
honours of which he performed admirably. At the end of the day our
president Henry Woods was to be seen driving a electric loco !!! shock
horror what will happen next ?
At the club committee meeting on Thursday12th, our Treasurer John
Entwistle announced with great sorrow that he must step down from his
duties as treasurer on the 31st of December. John explained he had
done the job for 7yrs and felt it was time to step down. The committee
thanked John and gave him a vote of thanks  for a job well done. Now
we need to find another volunteer to take up the challenge but the
task should be a lot easier now that the extension, new trucks and
signalling are complete.
John stepped up to the plate at a very difficult time in the clubs
history and saw through the financing of the track extension never
wavering when large bills were arriving, he saw it through. John also
dealt with the sale of the portable track and with help from the club
Secretary financed the new toilet block which has proved a great
success, especially for the club's 50th celebrations. John also dealt
with the sale and delivery of the Sweet Pea loco, another job well done
earning the club a sizable donation.
Today Sunday is a wash out due to guess what ? storm Brian!! say no
more.
02 October
Sunday 24th of September was the day the whole club, complete with
wives, children and grandchildren joined in the celebrations to
commemorate 50 years of our presence on the Daresbury estate. Also, our
President Henry Wood was celebrating the honour of being the longest
serving member and he was duly presented with a gift for himself and a
bouquet of flowers for his long suffering wife. Henry has worked
tirelessly throughout the years testing boilers , offering technical
advice to those that needed it and he as also refurbished countless
numbers of faulty injectors and if anything needed design work it was
Henry that always came up trumps. I think I can say on behalf of all
the membership he has been an outstanding asset to the success our
club and always a steady ship when the going got tough.
We must not go on without a great big thank you to John Entwistle who
came up with the most magnificent buffet. At first sight the amount
and variety of food on offer was staggering, one would wonder if it
would all get eaten ? But by the time we halted the running for tea
and the presentation we must have had upward of seventy guests ! Our
chairman Roger Hall did the honours with a very interesting speech
before performing the presentation on behalf of the club. Then Henry
gave us the most interesting potted history of the club from it's
inception in 1948 to the present day with all the tales of different
changes complete with dates etc., a very entertaining story.
One of the first arrivals on site in the morning was a visit by the
local police who were duly entertained with a run around the track and
a guided tour. The two police ladies took plenty of photographs to
record their visit and on return to their station, posted them on the
Runcorn Police Facebook page. This resulted in numerous inquiries about
" where is this railway ?" Running commenced after lunch with a
variety of freight wagons being hauled around the track, either free
running with electric locomotives or under radio control it made for a
very good exercise for filming and photography. What must be mentioned
was the quantity and variety of rolling stock our club can call upon.
During the day we had two Duchess locomotives and a variety of locos
running or on static display it truly was a b****y good show. As a
club we must be proud of what has been achieved especially in the last
few years. We have a track that is second to none, complete with solar
powered signaling and I know I always say it, in the most beautiful
setting.
Sunday 1st October
Today was booked as a running day up till lunch time then it was a
Frieghtarrama, a free for all freight day. Trouble was our top of the
bill act didn't turn up we were let down the only radio control on
site being my crawler crane !! I had a great run with plenty of ups
and downs, ha ha. Then our resident class 37 failed due to flat batteries
not a good start. But Andrew's Brittania stepped in and along with the
clubs 08 shunter we had a very pleasant afternoon. Steve Hudson
brought along his GWR 0-4-2 Tank loco for it's first steaming and
apart from a couple of small hitches it ran well under steam a lovely
engine.
Patrick Mullee
17 September
Rain Rain and more Rain what a month but last night the Barry Purslow
" NIGHT RUN " was a total and utter success !!!!
As darkness fell and the sun set into the Mersey the crowds started to
appear, all were treated to a hot pot supper with crusty roll's and
wonderful cakes baked by our lady members all washed down with
lashings of tea and coffee a catering job well done by all concerned.
Now onto the serious business 15 locomotives arrived which must be an
all time record. Three of which were visitors from other clubs. They
brought along a GWR prarie tank a LMS jubilee 4-6-0 and a Southern
King Arthur 4-6-0.
As for our club we had three industrial loco's a class 37 / class 50 /
class 66 all electric;s the steam loco's were 2 Brittania's a Black
five / 2-6-4 standard tank / Butch / Simplex a marvelous turn out.
Part of the fun is adorning the engines in as many lights lasers and
anything else you can come up with to create a spectacle of
illuminations amongst the tree's. Two joint winners for this category
were Paul Caldwell with his light / laser presentation and Amy Parsons
for her strip light coating of the Simplex well done to you both.
As for the visitors we were inundated with children Grandchildren and
all the parents who were dragged along and who ended up acting like
excited children. I think this year must go down as one of our most
successful PR exercises we have ever done which being our 50th
anniversary makes it all the more satisfying.
The success of the night goes down to the organizing of the event the
track marshalling being strictly ad heard to and most of all with
having 15 loco's on the track the signalling dept deserve a massive
pat on the back for all there efforts it coped marvelously with the
work load. And finally there were no accidents. A JOB WELL DONE. now
can we have another one ?
Well Creamfields has come and gone once again which means one thing
the " Night Run " is almost upon us. Barrie Purslow has sent out the
details to us which will be forwarded on in due course. The date has
been set at Friday the 15th of September.
Work in progress at our site continues Duncan and Bruce are in the
final throws of completing the solar powered signalling which I'm sure
we are all looking forward to seeing them in action on the " Night Run
" ?
Henry has now fitted new bearings to the turntable and it is now once
again fully functional.
A new roof has been fitted to the toilet block consisting of clear
corrugated sheeting. We now have natural light and ventilation
something which was overlooked when we first erected the block. So we
have no excuses for not making full use of the facility. A key is
placed on the top timber rail on the right hand side of the toilet
other than that any key from the stock of padlocks on site will open
the toilets.
Rob Gleave has rebuilt the kerb stone at the end of the traverser run
to eventually create a step and lay flag stones around the elevated
steaming bays.
Meanwhile " Tea man Bob " ably assisted by John Entwistle have cleared
out most of the scrap from the container and our licensed scrap dealer
come skip rat Mike Parsons has kindly removed the scrap a job well
done.
Finally a good friend of mine Mervyn Allcock founder of the Barrowhill
Roundhouse Railway Museum invited me to fetch along a few friends for
a " railway day out " followed by a few beers. We arrived on site and
were kitted out with high vis jackets and a quick talk about the
roundhouse. Then we climbed aboard 03066 a 0-6-0 diesel shunter and
commenced shunting the yard with Mervyn at the controls but it only
lasted 15mins before I had the controls happy day's. Whist busy
shunting Brian Renton was explaining to Merv that he had served his
time at the Vulcan Foundry building class 37's and had never ridden on
one. Merv soon arranged for a class 37 to be got ready to do a shunt.
37422 Cardiff Canton was to be our engine once on board Brian
explained to the driver his past and the fact that this was the first
time he had ever ridden on a 37.To our amazement he offered Brian the
CONTROLS !! and to my surprise Brian declined the offer ! I have
driven numerous classes of loco's but never a class 37 only Brian's
battery one !! I was gutted. Before too long it was knocking off time
and we all went off to the pub. Hopefully our camera man Roy Allen
will entertain us one natter night with a slide show of the day.
Patrick Mullee
——————
Well a great deal of work has been carried out in and around the track
site since the last Gazette.
There was a rather unpleasant incident on one of the radial steaming
bays. Paul Caldwell just arriving at the track to run his Duchess loco
parked it on the radial steaming bay closest to the white fence that
surrounds the bays. As he had just unloaded, the tender was not
coupled to the engine. Paul turned away to talk to Barry Purslow and
there was a thud ! the engine had rolled off the steaming bay ! As
would be expected Paul was really upset. After the engine was placed
back on the bay it was evident that the damage was only minor it could
have been a lot worse. Immediately Henry gave the boiler a hydraulic
test and all was well and after close inspection to the mechanical
side all was past fit to run.
On inspection of the steaming bay it was found to be out of plumb and
was sloping towards the track. So all the bays were checked and one
other seemed to be suffering the same fate. On the Wednesday Rob
Gleave along with a few volunteers set about rebuilding the steaming
bay's and by mid afternoon all was back to normal.
Since the traverser has been redesigned to couple up to the turntable
it has been found that the bearings supporting the turntable are very
badly worn. As a result when a heavy locomotive rolls onto the table
there is a significant dip.
So on Wednesday 16th Henry and a small gang set about removing years
of rust and paint to release the covers that protect the bearings and
loosening all the bolts in preparation of dismantling the turntable
this coming Wednesday to fit the new bearings.
Bruce has now installed at the rear of the tunnel a solar panel
mounted on a well built post. To complete the job all that needs to be
done is to mount the switch board in the tunnel and we will have solar
powered signalling around the track. I think a we should all
congratulate Bruce and Duncan on there magnificent efforts.
Tea man Bob has really got to grips with his new post as head of house
keeping. On Wednesday a start was made on sorting out all the rubbish
and scrap that has accumulated in the container and the tool shed. A
warning is now being given that any person owning anything in the shed
or the container that could be described as scrap or rubbish could you
please claim it before this coming Wednesday.
Toilets ! It has come to our notice that there are still members not
conversant with the method of unlocking the loo's. Answer any padlock
key on site will open the loo's. But to be extra convenient ( forgive
the pun ) there is a key on the top wooden beam on the right hand side
of the loo. Under no circumstances should the old loo behind the hut
be used.
Swinging link ! upon operating the locking mechanism you must at all
times hold the weight of the spring on the handle and replace it
gently back into it's locked position far to many members are letting
go of the handle and allowing the full force of the spring to shoot
back.
In the last few weeks we have had some really good running with plenty
of new loco's arriving and the usual stalwarts taking full advantage
of the weather and the increased number of visitors we are now
attracting to our wonderful track.
Lastly our Chairman Roger Hall is happily making a steady recovery
after his recent surgery i'm sure we all send our good wishes and look
forward to seeing him waving his stick at us soon.
----------- 
After identifying problems coupling up trucks to the locomotives at
the recent Steam Fair running days. Duncan Webster set about doing a
study of coupling heights on our passenger trucks ( see photo in last
Gazette ) it was found that the coupling's were low. So rather than
cranking the coupling bars Duncan decided to re drill and raise the
couplings. As a result they appeare to be a little high but when
loaded they are in the correct position 3 trucks have been modified
these are the 2 two new ones built by Duncan and Bruce plus 2002.
Feedback to Duncan or Bruce would be appreciated.
If found to be a great success all the other trucks can be so treated any
volunteers to under take said task would be gratefully accepted.
Wednesday 2/8/17
The day started quiet damp and miserable with around a dozen members
braving the weather. After the usual first cuppa Henry set about
rectifying the traverser locking mechanism to the turntable thus
solving a problem that arose prior to the Steam Fair. It is now not
possible to move the traverser when it is coupled up to a unlocked
turntable. Although we have been on the Daresbury site for 50 years we
are still finding hazards that have to be solved.
Duncan along with some of our fitter members set about reorganizing
the carriage shed the large trailing trucks only used at the Steam
Fair were laid on the ground at the rear of the shed and all the
smaller two axle trucks are now on the raised track and not stored in
the club house. ( good house keeping )
John Entwistle after fitting a new grate and fixing the injector water
valve steamed up the Sweet Pea for a trial run before the new owner
accepts delivery.
Dave Mullholand brought along his Southern Mogul for valve setting
which left a few people scratching there heads me being one of them.
Two new engines have arrived at the club and one new member who joined
us after the Steam Fair. A warm welcome to Tom Taylor who has joined
us owns a 31/2 gauge 9F 2-10-0 quite a large engine in this gauge we
all look forward to seeing it put through it's paces in the near
future. Another new engine also in 31/2 gauge ( has the days of big
engines come to an end ? ) is a lovely built Stanier Black five owned
by Jim Knowles another one to look forward to.
Tonight is natter night up at Stretton cricket club 8pm start.
Stop press Our chairman Roger Hall has successfully come through a
works overhaul at Macclesfield hospital. Reports are the staff are
only slightly traumatized after his visit and should recover very soon
!!
Also our best wishes go out to Andrew Marsh's wife Judy who has
recently had some really good news following a worrying few weeks ( no
she's not expecting another arrival ) sigh of relief from Jake who by
the way still needs a hair cut.
Patrick Mullee
Thursday 20th July 2017 After the Steam Fair ended on the Sunday night someone/something badly damaged the track. A pre run check on the Wednesday morning prior to the second visit from Daresbury school revealed the damage at beams 81 to 83 at the top end just before the old bridge. The damage was due to a side swipe along the sleepers resulting in the misalignment of around six sleepers causing them to buckle the inside 31/2 gauge rail. A hasty repair job was done to the 5ins rails and the gauge was checked and signed off fit to run. Around 50 children in two groups arrived on time and were treated to a full description on the workings of the steam locomotive and then taken on a ride around the track. As before they were amazed at our set up and they left very impressed with our hospitality and friendliness. Wednesday 19th July A decision was made to replace the damaged sleepers and relay the 31/2 inside rail the work being carried out by Brian Helsdon and Paul Caldwell with the observation duties carried out by myself. On completion of the repair a full track inspection found splayed fish plates and damage to the outside 5ins rail at beams 252 to 255. This was the spot where there has been a couple of unexplained minor derailments in the last couple of weeks. A decision was made to relay and fit new fish plates before anymore running was to take place this was done and passed fit to run. Brian Renton arrived just before lunch break he had been to Daresbury school on a curtisy visit following the completion of our offering to the STEM project. Brian was amazed at what he saw a full wall of drawings and the wonderful art work the children had done as part of there visit many references to WDMES and the Mad Hatter. Brian was also assured that a full story and photo's will be submitted to the local press. captions please bearing in mind this person is a member of the Institute of mechanical engineers!
10 July
Well another steam fair has passed and as a club we have performed brilliantly.
Prior to the event a plan was worked out to simplify the operations in
and around the steaming bays. I volunteered to work out the said plan.
Our traverser and swinging link were recognized as being the danger
spots as far as accidents were concerned. So I set myself the task of
being the only person allowed to operate the swinging link, and the
loco owners in sole control of the traverser, cutting out the number of
bodies moving trucks and loco's around the site, and to my surprise it
worked ! The second part of the plan was to cut out all signals
between the distant for the swinging link and the starter signal at
the Daresbury Halt platform, in total three signals, leaving only the
swinging link protected.With drivers being called on manually by me as
Track Marshall enabled a smoother unloading of passengers.
Taking advice from Duncan Webster, the remaining signals protecting the
new track extension were kept in full use and they worked faultlessly
throughout out the weekend all praises go to DW, well done.
Saturday/Sunday started at 8am. All trucks had been pre marshalled into
their running order and moved over to the carriage siding in between
the two running roads, which left the steaming bays free of complicated
jockeying of trucks and loco's. Whilst this was going on Brian Renton
did the pre run track inspection followed by a loaded test run, and
Brian Helsdon checked the operation of the signalling. With all the
loco's in place before the start of the event, the unloading line was
secured and a variety of rolling stock was coupled up to Brian
Helsdon's radio controlled battery shunter which played up and down
both days, amazing the kids who thought the little fella in the cab was
actually doing the driving. It turned out to be a really good
attraction no doubt attracting plenty of donations in the collection
box.
Loco's for the weekend were provide by Amy Parsons, Barry Purslow,
Brian Helsdon, Brian Renton, Henry Wood, Paul Caldwell and Roy Allen.
Also there were a variety of static exhibits on show. Other members
manned the cash collection , passenger loading and unloading, tea
making and all the other menial tasks around the site. It turned out to
be a wonderful team effort that worked faultlessly and above all safe
with no recorded accidents. Our new toilet block was kept in continuous
use throughout the weekend turning our lovely woodland setting into a
much fresher place to enjoy ourselves in.
I think I've covered everything and hope this makes for good reading,
giving you a good idea of how we can enjoy ourselves and still be
aware of the hazards that surround our hobby.
On a final note on Saturday we were treated to a surprise visit or
visits by the health and safety officer. On her first visit a copy of
the club's public liability insurance was demanded and we produced the
copy. Later we were treated to a second visit where boiler
certificates were demanded these also were produced. Then the third
visit a copy of our Risk Assessment was demanded, this was also
produced and a recommendation it should be updated was given and we
received a full compliance to carry on operating.
Phew, against all odds the track performed brilliantly.  We entertained the
public who were more than willing to pay the increase in our fares and
everyone was most impressed with our beautiful track.
A massive thank you to all concerned.
Patrick Mullee
21 June
Tuesday 20/6 saw two members of the committee reacting to an email received by our Hon Sec regarding concerns to track safety, hours before one of our most important visits. On close inspection, and checking all rail joints and rail gauges, no problems were found.
Today Wed 21st we were treated to a visit from 3 groups of children from Daresbury School. Almost 100 children and staff had a really memorable day. Our loco owners were on top form, pointing out and explaining each individual part and their functions. Fully genned, up the children, in a very organised manner took their turn for a ride around the track, a scene reminiscent of St. Trinian's, with children cheering and begging the drivers to do another lap. With a really hot day, tractors working in the field and well behaved children, it was a day to remember for a long time. Top marks must go to our Hon Sec Brian Renton and all our drivers and engines for a memorable day.
18  June
Saturday 10th June we had a party day for Paul Caldwell's staff and
families. Paul held the party for his employees in recognition for
their hard work constructing the beams and associated metal works for
the construction of the track extension. Locomotives present were
Paul's Duchess, Barrie's Duchess, Roy Allen's new Standard tank and
after lunch Ben Pavier arrived with Paul's Flying Scotsman fresh from
complete overhaul.
Sunday 11th June was a track running day but we provided the track and
locomotives for a private birthday party for Malcolm Ross and his
family. All went well with everyone having a really enjoyable day out.
These two events were testers for further such events in the future as
we have no portable track and it could prove financially beneficial
for further improvements around the site.
As for improvements around the site, on Wednesday 14th we took delivery
of the new toilet block built for us by Rosewood timber, Hatton who
made a fabulous job of it. So anyone wanting bespoke timber
buildings/shelters that's the place to go mention your a member and
they will treat you very favourably. Lot's of painting, track cleaning
and truck assembly was going on, a very productive day.
Sunday 18th Saw a really hot sunny track running day and a new 5ins
gauge Britannia belonging to Andrew and his son Jake arrived for
boiler test. Four steam and two diesel/battery locomotives ran and
entertained members and passing public alike with a nice crisp £5 note
being donated to the funds. As usual Tony Sturgeon's wife rolled up
with the most scrumptious hazel nut fruit cake and I finished the day
with a impromptu barbecue washed down with lashings of Bob's tea
wonderful!!
Patrick
03 June
Wednesday 31st. saw a really impressive line up of our members skills.
Four locomotives were up for hydraulic / steam test. Rob Gleave brought
along his very elegant Lancashire and Yorkshire tank for steam test.
Next was Roy Allen's superb BR standard 2-6-4 tank and to top it all
Dave Long brought 2 identical 5ins gauge Achilles tank loco's for
test. Our boiler tester, Henry Wood, was also training Andrew Marsh
as a stand bye boiler inspector. They could not have picked a better
day. The sight of the four loco's was absolutely breath taking, a
credit to their builders.
After lunch Roy ventured out onto the track, taking two passengers for
his first run. Performing well, Roy decided to do a load test consisting
of three trucks and seven passengers and apart from the usual wheel slip
starting on the gradient she soon picked up and ran faultlessly. A really                                                                                                                                                       big round of applause for twenty five years of building such a
lovely locomotive, well done Roy.
For more photos and video's of the day visit the clubs Facebook page.
Patrick Mullee
26 May
There's nothing exciting to report this month on the running side
other than" Puffing Billy Atherton" has successful completed more than
one lap of the new track with his American 0-4-0 without stopping to
light his PIPE !!! So much so he is now regularly seen to be speeding!
Malcolm Ross after numerous attempts to vacate the steaming bays has
finally ventured out onto the big railway and had a run behind his
lovely 31/2 gauge Rob Roy. He hasn't put his name on the roster for
the steam fair though.
As you are all aware a decision was made by the committee to sell off
the club's portable track. Steve Hudson, former portable track manager, has received a firm offer of £1500 pounds for the two trailers and Phil Parker has purchased the track and one truck to add to his garden on the site of
the old Whitchurch steam shed.
All the proceeds from the sale have financed the purchase of two
portaloo toilets that are to be placed into a timber structure and
provide a decent toilet block for members and visitors alike, thus
enhancing the facilities that we can provide in the woodland setting. A big
thank you must go to Brian Renton for finding and transporting the
loo's from Doncaster. Rosewood Timber, Hatton are building the new
shelter and delivery has been promised by the end of June just in time
for the steam fair.
The annual track survey has been completed and apart from the two
protruding beams on the derelict track (which have now been removed) and
all but essential maintenance to be carried out, everything is fine.
On the passenger truck dept, work is carrying on at a frantic pace to
have all the new and existing trucks up and running in time for the
big show. Another team effort has seen the installation of another
steaming bay many thanks to Paul Caldwell and Henry Woods for their
efforts.
We are living in a world where new events are happening at rapid
speeds no more evident than our own little world up at Daresbury. If
we look back over the last couple of years we have made momentous
changes to our site, most of them in the face of adversity, but we have
pulled through and we can now sit back and enjoy the fruits of our
efforts.
John Entwistle announced at lunch on Wednesday that John Waldron had
been taken into intensive care. We all sent our good wishes for a
speedy recovery and today Thursday we have been told he is now out of
intensive care and onto a side ward. Looking forward John to hearing
your really annoying voice once again. Love from us all for a speedy
recovery.
Patrick
Signal News
Habemus signa
or for those who didn't have a classical education
we have signals.
After sorting out one mystifying wiring error which had really strange
symptoms it all works, at least ones near the pavilion and the first 4
at the top end do. These cover the worst of the blind bends, the final 2
can come along as and when. Fault finding wasn't made any easier by the
fact that the works trolley does not reliably short out the rails, and
so doesn't trigger the track circuiting. Probably because it doesn't have
conventional axles joining the wheels together.
Regards, Duncan
07 May
Not a lot to report as regards running this month due to poor weather
etc. The Sunday track running has been a very relaxed affair in the
last month. Andrew and his son Jake being the most notable early
morning runners. Sunday 2nd May, saw Andrew arrive on site with a kit
built picnic bench and table which he had fabricated from recycled
timber. The build quality is really robust it looks as though it will
see out the century, along with the benches that he has put in place,
the woodland is now a place for relaxation. Our thanks must go to
Andrew for all his efforts.
Sunday 2nd May, a small group of our members took the club Black Five
to the Leyland Society's annual international 31/2 gauge rally. Prior
to the day out the loco was collected from Sam Sims who is the present
custodian. On delivery to Roy Allen's workshop it was given a thorough
inspection prior to a paraffin bath. It was found that the slide bars
on the left hand side were loose and in danger of coming adrift so Roy
did an emergency repair to enable the loco to perform. On the day the
loco ran constantly taking its turn in the passenger hauling ranks.
Alas, towards the end of the day all didn't sound well with the engine
running off beat. A decision was made to fetch her off and have a look
at what was going on. A close inspection revealed the Walschaerts link
had come apart and the whole engine was in dire need of attention.
An appeal was put out to the members for a volunteer to undertake the
overhaul and partial repaint of the engine and tender. Pete Sutton
stepped up to the plate and volunteered to take on the task. Peter has
recently suffered the bereavement of his wife Jo who passed away
after a long illness, Our thoughts must be with Peter at this difficult
time.
Today, Sunday 7th May, was a perfect day full sun and plenty of engines
on display. As part of my new duties as liaison between the track gang
and the committee, I approached Bruce for the results of the annual
track inspection that Bruce and his team had recently completed. First
and foremost, was there any jobs that must be completed before the Steam
Fair? Bruce pointed out that on the new extension, where the track was
exposed to the sun in two places, there was no expansion joint. On
inspection today it was obvious this job needs early attention, so work
will start on Wednesday to rectify it. Another concern is that the two
beams at either end of the old loop need removal as they are far too
close to the running road. Apart from those two points things are
looking quite good. The signalling is coming along nicely thanks to
Duncan and the new trucks are also looking good.                                                                                                                                                                                              (see following for signalling news from Duncan)
Signal News
As I arrived on Wednesday I could hear the sound of the Lesser Spotted Strimmer
Bird at work, yes spring has sprung. Unfortunately the LSSB has a habit
of destroying the cabling on the signals, so first job was to fit cable
guards to the new bit. Then completed the connection of track to
junction boxes, fitted the connection sensing resistors and insulated
fishplates (both made by Bruce, thanks). One more connection to make!
Next week we hope to fit the solar battery charging system, then we
should be able to test the complete system
16April
Sunday 9th April was a really sunny day, ideal weather for a running
day. Disappointingly there was a very low turn out. Andrew and his
son Jake were early arrivals at the track site. Andrew had brought
along a new arm chair he had carved from a tree he had felled, it's a
wonderful addition to the track side. The arm chair is positioned
between the two stations in the centre of the two running roads, giving
a wonderful relaxing view of the running roads. Up at the deep cutting
he has fashioned a further two benches, one overlooking the pond with a
good view of the new track running up to the tunnel and the other
giving a view of the track from Daresbury Summit along the deep
cutting. All in all a very good job and use of redundant tree trunks,
adding even more beauty to our wonderful track. Keith was running his
beautiful Darjeeling B class tank, Jake ran his Butch and three diesel
electric locos turned up.
Wednesday 12th saw two B1's up for test.  Brian Renton's  Springbok
passed its hydraulic and steam test with no problems at all. Up next
was a B1 boiler for hydraulic test, unfortunately there was a small
leak on one of the hollow stays. Duncan forged on with his project
wiring up the signals and track circuiting, it is coming along quite well.
Thursday 13th April was the first meeting of the new committee. After
re- electing Roger as our chairman (a job he relishes) Henry welcomed
the new committee members, Bob Lang , Roy Allen and Patrick Mullee.
Roger wasted no time appointing each member to their specific tasks.  A
number of issues were discussed and were dealt with accordingly, no
doubt they will be put to the membership at a future meeting.  All in
all it was a very good discussion on taking the club forward for the
next year.
Easter Sunday turned out to be a foul  day weather wise,  so I thought I
would just pop up to Daresbury to see if there was  anyone foolhardy
enough to turn out. When I approached the entrance there was around
six cars up at the track so I ventured across. Tea man Bob was there,
so that was a good start, and three engines, so all was not lost. Sam
had brought along the club Black Five, and as usual it ran superbly.
7  April

News from Duncan
Signal News.
It's all been a bit quiet for some time, but finally making some
progress. To save confusion, signals are numbered as follows
1 distant by carriage shed 2 swinging link 3 home before
Daresbury Halt
4 starter at Daresbury Halt (Amy Parsons's signal)
5 distant before first bridge 6 multi aspect before first
bridge 7 multi aspect before conifers
8 multi aspect before tunnel 9 multi aspect before new bridge at
top end 10 multi aspect just after Daresbury Summit
!, 2, 3 & 4 should be working as they have not been altered in new
scheme. Similarly 5 & 6 are installed and cabled.
Posts for 7 was installed some time ago, posts for 8 & 9 installed last
week (thanks Paul), cable from 6 to 7 cable pulled today but not
terminated. The microphone cable we scrounged off Phil just fits between
steel beams and sleepers, so quite neat, the slightly heavier stuff I
had to buy won't, so it will be cable tied underneath. The alternative
of burying the cable has been rejected (by me, no discussion!), trench
digging is soul destroying, that clay sets like stone in dry weather
Regards
A bit more.
When I were a lad you could get a bench mounted thing for accurately bending flat bar. Has anyone got access to such a thing to bend the stirrups for the new truck?
30 March
Wed 13 March saw the fallen tree across the cutting on the up side of
the track removed. It was a Herculean task by our landlord aided by
our Wednesday gang. This saw the track reopened for business, only for a
further scare at beam 200 where high treetop branches had snapped and
remained precariously hanging over the running track. Prior to Sunday
running 26/3, Andrew Marsh arrived early and removed the offending
branches. A big thank you goes out to Andrew and Jake for their effort,
allowing the Sunday frolics to continue.
Thursday March 16th was the annual AGM at the Stretton cricket club.
This past year saw the demise of our portable track activities and
loss of revenue therein. It was very pleasing to see the new club
subscription so warmly accepted and it was agreed by all that the value for
money we receive in return is fantastic. All in all, the club has come
out of the extension challenge very well, with no small thanks to our
treasurer John Entwistle who can still keep four balls in the air
without the aid of his batman, well done John.
It had been previously decided that the number of members serving on
the committee was too large and that a committee of 8 members
would be sufficient. The committee therefore stood down as a whole.
A vote was then conducted  to elect proposed members. Hon Sec was
re-elected along with the Treasurer and Henry Wood as Minutes Sec.
Five members were elected to serve   –  Roy Allen. Roger Hall, Steve Hudson,
Bob Lang (tea man Bob) and Patrick Mullee.  After all Club business had
been concluded, the new committee elected Roger Hall to be Chairman,
a job he does with pure joy.
Wednesday 29th March, well what can one say? The day we start informal
negotiations to exit the EU, tinged with happiness but the gloom set in
for one of our most eminent loco owners (lol) Sir Barrie Purslow's Black
Five FAILED, I kid not, FAILED its boiler steam test !!  One would ask
where on earth did Henry pick up the courage ? Joking apart, it was only
a small steam leak on the regulator, no doubt fixed before the sun had
a chance to set on it. After waiting 24hrs for my brown envelope to
arrive, I can announce that Paul Caldwell's magnificent, only for the
colour blind"BLUE", Duchess performed faultlessly all morning with no
aerobatics. Maybe when Paul decides to perform another air show we
could arrange for this Duchess to land in a bucket of red paint.
Patrick Mullee.
Bogies and Chassis for new Truck
18 March 2017
Due to bad weather and the fallen tree, all due to storm Doris, there
wasn't much activity up at the track on Wednesday 1st March.
Thursday 2nd March we were treated to a really interesting talk on the
Bloodhound SSC project. Bloodhound is Great Britain's latest attempt
on the land speed record, with a car capable of traveling at 1000mph.
The aim of the project is to inspire the younger generation to pursue
a career in science and technology, engineering and mathematics. To
this aim the group are showcasing the project to schools and colleges.
Richard Noble and Andy Green are heading the team in this fantastic
adventure. It is proposed to run the jet/rocket powered car in South
Africa, the only place possible to hold the event. At top speed the car
will cover the measured mile in 3.6 seconds, a truly terrifying thought.
We all wish Andy Green the driver all the luck in the world.
Wednesday saw the club Sweet Pea loco brought out of hibernation for a
steam test prior to the loco being put up for sale on behalf of the
owning family, glad to say all went well. As for the permanent way
dept., they have now installed the new beams and the track is now in
place held by the key sleepers. We are reliably informed all work
will be completed by the end of Wednesday 22 Feb and running can
recommence. Hip Hip Hoorray
Thursday 16 Feb saw natter night at the cricket pavilion. Our
chairman gave a brief outline on the present state of the track work
and went on to reassure all the members present that there will be no
further breakages in the track until all outstanding work on the new
extension has been completed. We were also reassured that all
modifying track work must go through the committee before any
work commences.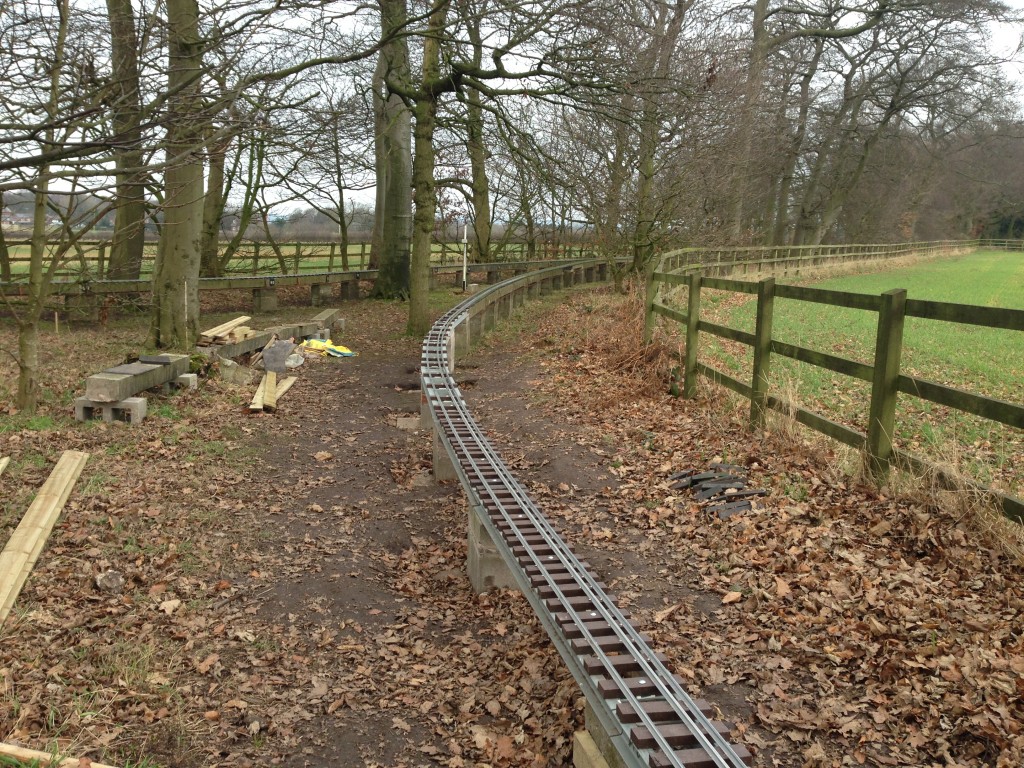 Friday 17 Feb was a very busy day at the Queen Elizabeth Hall, Oldham
where the MMEX exhibition was being held. We should as a club be very
proud of all our members who chose to exhibit their models. The stand
was a great sight with two built up freight trains as the main back
drop. The models on show attracted much attention from the press and
Joe public alike. Many many questions were answered about the models
on show and our track extension attracted many engine owners
expressing a desire to come and try it out. As for my ego I sent a
video clip of my Hielan Lassie to Paul Caldwell late on Thursday
night and he posted it on our Facebook page. By Friday 83 people had
viewed it,4 many of them present in the hall this weekend. All in all as
a club we stand amongst the best and our thanks must go to Steve
Hudson and our Hon Sec for a wonderful weekend.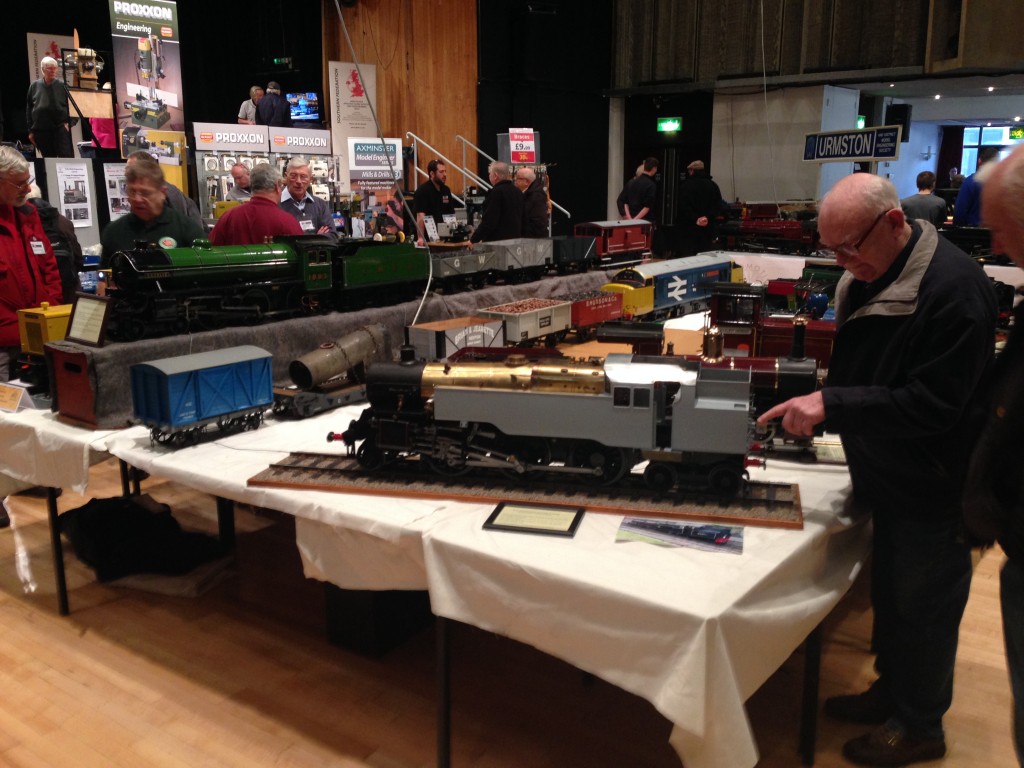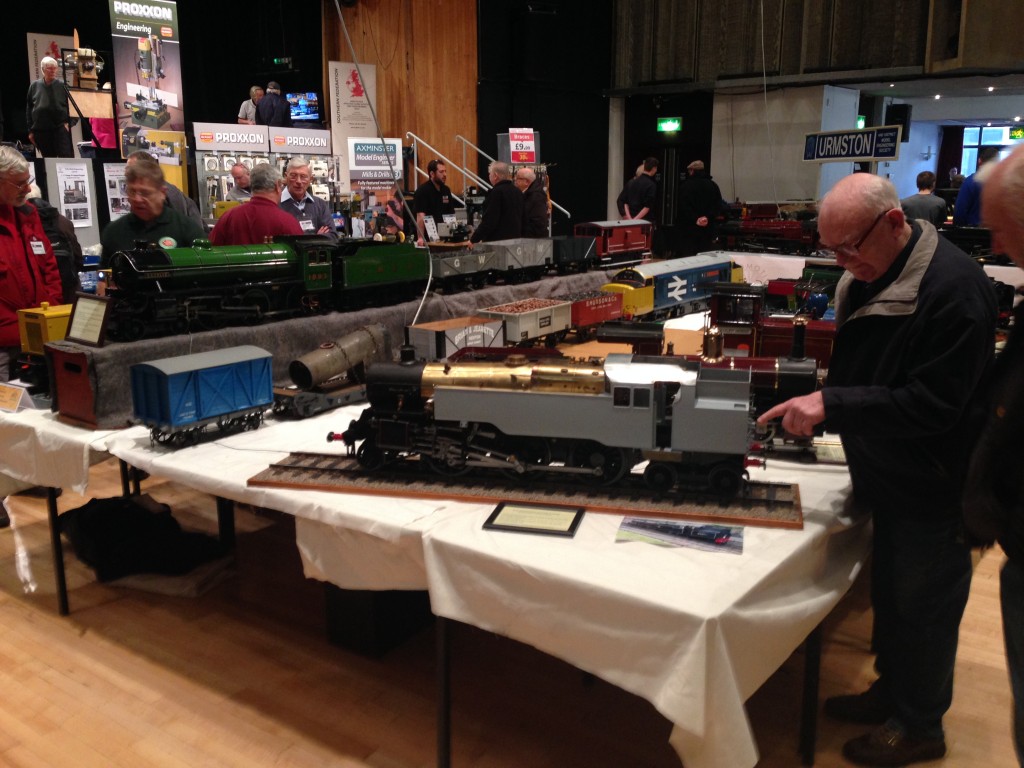 *** Stop Press ***
Missed from Thursday 5th January's gazette

Malcolm Ross brought along a fine 31/2 gauge William 2-6-2 T running chassis. 
Unfortunately due to other commitments Malcolm has been forced to put it up for sale, 
so anyone interested in making an offer contact Malcolm.


Wednesday 18th January saw the start of the latest "tweaking" of the
recently completed track extension. Six concrete beams have been
removed and supporting pillars demolished to remove the "hump" out of
the track.
Whilst this work was going on Henry was busy boiler testing. Up for
test was Malcolm's 31/5 gauge Rob Roy unfortunately it was found to
have a problem in the hand pump. Next was Pete's boiler from his 31/2
gauge Arfer ( half a Maisie and half a Bantam Cock) poor old Pete
there was a problem with the regulator. Next on line was my 31/2 gauge
Hiellan Lassie up for a steam test and to every one's amazement it was
faultless. Safety valves acted dead on time the injector and hand pump
performed as well.
Thursday 19th January we were entertained by Roger Coasby from the
People's Mosquito Ltd. Roger who was employed by De Havilland gave us
a detailed presentation on the group's attempts to rebuild a Mosquito
from the remains of RL249 which crashed on take off in 1949. 7000
Mosquito's were built and affectionately known as " The Wooden
Wonder's" Most of the work will be carried out in New Zealand and then
shipped to the UK for assembly. We look forward to seeing it in the
skies entertaining and educating the youngsters of today.
Wednesday 25th January work proceeds on the 30ft gap in the track.
Base pads and the first blocks are now in place and the work is
scheduled to take 2 more working weeks. As on the full sized railway
there will be heavy financial penalties involved if they do not meet
there target also the complete destruction of the "bendometer" so
beware!!!
Meanwhile back at the steaming bays we saw the return of the dynamic
duo Macolm and Pete back again for retest. Guess what they both failed
! sorry boy's see you again next week.Happy Days the joy's of model
engineering.
P Mullee.
Thursday 5th January
Bits and pieces night Thursday 5 January.
What a show ! on a cold and frosty night the club house was packed.
Models of all description were on show,
First to present the fruits of his labours was Keith with his
beautiful skeleton clock complete with fusee movement and topped off
with a bell from the Whitechapel bell foundry.
Bruce had brought along a collection of parts he had completed for his
5ins Sterling 2-2-2 single wheeler. One of the most interesting
exhibits was the regulator, a really unusual design in the fact that it
is not fitted with a dome steam collector but dozens of 0.7 mm holes in
the top of the tube.
Next was Sam giving us an update on progress with his 3 ½" Rob Roy, not
so far off now.
Then Roy gave a talk on the construction of his very fine lifting
table complete with his 5ins gauge standard class 4 tank loco now
complete apart from the final assembly, a very fine loco indeed.
Now for something completely different.  Rob has built a very nice
single cylinder mill engine, but Rob went on to explain that almost all
model mill engines are mounted on a mahogany base. Not this one. Rob
sent away for hundreds of scale model "bricks " he didn't mention if
they came on a pallet !! a great deal of time and effort went into
laying each individual brick.
Last but not least was Henry with his latest version of his own design
a 5ins Emma Louise' in a side tank form. Henry went on to explain the
construction of various fittings he had brought along, pointing out
that he never uses casting and everything present had been fabricated
from scratch.
All in all a very interesting evening and a wonderful show of
engineering skills.