Posted on 07. Nov, 2019 by Tom Taylor in Daresbury Gazette, Daresbury Gazette 2019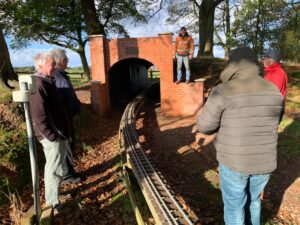 Welcome to the October Daresbury Gazette – It has been a very busy month before Winter descends upon the track at Daresbury
Thursday November 7th from 8:00pm we have our third WDMES Talk of the season about the "How Helicopters work?" by Guest Speaker: Gerry Minchin (at the St Mary Magdalene's Church Hall, Appleton) – we hope to see many members at this event – More details of this event and future events can be found here
Well the 31st October we should have been ready to run a 'Bye Bye EU Choo Choo'. But instead we have 6 weeks of nothing but politicians 'letting off more steam'. So let them get on with it and we'll keep playing trains!
Where do I start? over the last couple of weeks we have had three lots of unhappy news. First we heard of the passing of Jim Wilson he was the club chairman for a few years and also ran a 5″ Minx which he won the LBSC memorial cup. Jim from Frodsham moved to Hull with his job and that is where he passed away. We would like to extend our condolences to his family.
Next we hear sadly of the passing of Jack Patterson one of our oldest members. Jack for the last few years although confined to a wheelchair to get around always turned up for our AGM ably assisted by his friends. I believe Jack audited our finances for years for which the club was very grateful. By the time this edition goes out Jack's funeral would have taken place once again the club extends there sincere condolences to his family.
Unfortunately our guest speaker who we were all looking forward to his talk on the Spitfire has suddenly passed away, therefore our chairman has arranged another guest speaker Mr Gerry Minchin who will be talking about "How helicopters work" Thursday 7th November.
Track news.
Lot's going on Bruce and Duncan are busy digging and laying cables to complete the whole of the track signalling and track circuiting. In doing so they have improved the signal that protects the swinging link – it now incorporates a proceed with caution yellow light to enable engines desperate for water etc to enter the station area.
Roy Allen and a small group of volunteers have been working hard on the storage container. It has received a new coat of green paint and Roy has cut out corrosion around the doors and made a very good job of welding in new a pillar section and a new bottom to the left hand door.
The Tunnel.
It is with great pleasure we can announce the Tunnel is now FINISHED!! Well it will be when we can get materials to landscape it. It is looking fantastic and is a great credit to all those who have been involved in fetching this most eye catching addition to our wonderful railway to a conclusion. Considering Paul Caldwell had never laid a brick in his life until Andrew Marsh took him under his wing they have both done a lovely job. Poor Dave Mulholland has now needed to redesign the wonderful tunnel entrance sign he made before we extended it! he now needs to add another 16ft to the length, sorry Dave.
Tree work still carries on apace. Two more dead trees have been removed along with heavy pruning around the new extension which has improved sighting of signals tremendously. Again we are very fortunate to have the Martians – Jake and his Dad Andrew.
Once again we still manage to gain access to the site even through the atrocious weather we have experienced. All the work carried out on the roads and parking area has paid off and i'm sure we will be able to run 12 months of the year which for a few of us is great news.
Alas my 4 year dream of reliving the experience of my very first engine, a 'Hielan Lassie' has come to an end. She now is on display in
the Darlington home of a gentleman who like me wanted to relive his dream also. When he was a boy his father started to build a Lassie but
sadly passed away before it was completed. In the passing of time it disappeared and he always wondered what it would have looked like. So
now he has one and it has gone to the gentleman that owned an engineering firm in Darlington who to his great credit was involved with the manufacture of parts for the new build locomotive Tornado.
Until the next edition I suggest we all bugger off (like our Secretary has to a sunny beach) until the election is over – but don't forget to vote as we need Brexit done!
Patrick

Other related Daresbury Gazette articles:
<< Back to Daresbury Gazette