Posted on 16. Apr, 2018 by Paul Middlehurst in Daresbury Gazette, Daresbury Gazette 2018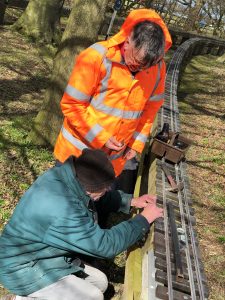 Dave Mullholland worked out a plan for the annual track inspection. It was agreed that he, along with Craig would do the main running track and steaming bays and access track would be covered by myself and Brian.
Dave, after identifying numerous minor maintenance jobs to be done, put out an appeal for a concerted effort on the 28th march to get as much done as possible. We had a great turn out on the day and most of the jobs were covered. On the bridge at the end of the old track Roy Allen along with Andrew Marsh have welded extra support to the bridge and the bridge is now bolted to the new track extension which helps to form a rigid connection, all that needs to be done now is to treat the bridge to a coat of paint.
Wednesday 11 April Paul Caldwell arrived with his trailer and mini loading shovel and work began transporting ash to repair the access road. This job would have been a mammoth task if it were not for Paul's generosity in providing his machinery and the ash.
There isn't much to report on the track running side as the weather has not shown any signs of improving. Today Sunday 15th we arrived at the track to find our landlord had been clearing the ditch, unfortunately the contents from the ditch will need to be tidied up when it has dried out.
Also today Brian did two trips to Warrington with his campervan transporting building material for the tunnel fascia. After numerous tunnel designs I think we are now settled on what will be acceptable so work will commence this coming Wednesday cutting back the embankment and digging footings so come along on Wednesday and get stuck in with us to get this job started. For those of you are of an artistic manor there are two cans of metal paint in the clubhouse to paint the bridge.
Away from the track young Tom has been busy fetching the club website up to date and uploading many photo's and videos, so take a look. If you have any difficulty accessing the site, speak to Tom and he will put you right.
Our new Chairman Barry Linaker has settled into his new post and chaired his first committee meeting this week. It was a hard act to follow Roger but I'm sure the longer he does the job and the more miserable he gets, he will be a good match.
Just one more thing regarding boiler testing, any member requiring a boiler test, could you please make an appointment first with Henry or Andrew Marsh. Please try not to just turn up with an engine, and make sure your engine is ready for it's test especially your hydraulic test.
Patrick

Other related Daresbury Gazette articles:


<< Back to Daresbury Gazette