Posted on 09. Jul, 2021 by Tom Taylor in Daresbury Gazette, Daresbury Gazette 2021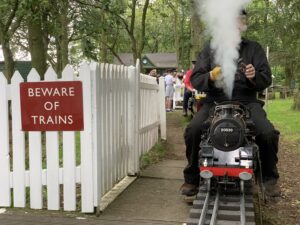 Well after 16 months of Covid restrictions there seems to be light at the end of the tunnel! (excuse the pun!)
It's been a long, very frustrating time especially as we are all getting longer in the tooth. Never in our lifetime have we experienced such restrictions on our hobby. BUT it will all be over within the next couple of weeks and we can start to get back to some sort of normality.
During the lockdown a start was made by a group of members to deviate the track from it's route over the first bridge and round the water tank. The purpose of the deviation is to make a more direct transition on to the new extension however not all of us were in favour as the beauty of the meandering track demands more control of your engine and more akin to a branch line working instead of the mainline just letting it go form of driving. This will mean observation of the signals is essential.
Catch next months Daresbury Gazette for the latest Deviation Report – you can find previous reports here!
I bumped into the vicar of the church hall we use for our meetings last week and he informed me that they are really looking forward to our use of the hall getting back to normal, aren't we all!! It's been far too long since we all had a good natter night.
The Cheshire Steam Fair 2021 is now on top of us after a years absence (due to the pandemic) but due to continued covid risks the committee has decided we will not be carrying paying passengers this year. However there will be around 20 members allowed access to operate the track as an exhibit within the show. This is members with engines only who are prepared to run them for the public's viewing only no passengers will be carried at all, that includes other members.
During lockdown quite a few new models have arrived and others have gone to pastures new. One of these is my old Midland single wheeler. Unfortunately there was no desire within my family to inherit the engine so reluctantly rather than see it rust away on a garage floor I put it up for sale. She didn't fetch a fortune but she did go to a good home. As we came out of the EU she went into it!! and now resides in a Railway museum in France so a very happy ending for both of us. I now possess a Maid of Kent of which I am very happy with but it doesn't have the emotional attachment that I had for the Single. Unfortunately this is something we will all have to face sometime or other as we are only the custodians of these wonderful machines.
On July 4th during the EGM a motion was put forward to alter the constitution of the club. This entails the club being run day to day by a committee of Chairman, Secretary, treasurer and President. They would meet 3 or 4 times a year to deal with all the legalities of running the club with members putting forward ideas and suggestions and then allowing them members to vote on any decisions that involve the running of the track. I hope this makes sense.
During the lockdown we have all been out of touch in person and with what's happening around the club (although due to restrictions it has been quieter than usual), so I have decided to once again provide updates for the Gazette to give a bit of an insight to what's happening.
Finally the weather forecast for the run up to the Cheshire Steam fair is abysmal as I came past today Monday the fairground was already setting up my hope is that Richard Ashworth the organiser protects our access track from the heavy machinery. After all, it's in his own interest as part of the deal the field is left as found.
As you are aware, this years Cheshire Steam Fair event also has limited tickets due to continued social distancing before July 19th – please see Outdoor Shows Ltd or https://outdoorshows.co.uk/cheshire-steam-fair/… for more details to book in advanced.
Patrick Mullee

Other related Daresbury Gazette articles:
<< Back to Daresbury Gazette