Posted on 31. Dec, 2020 by Tom Taylor in Daresbury Gazette, Daresbury Gazette 2020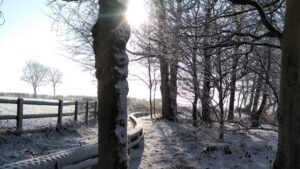 Seasons Greetings
Dear Members,
In this season of goodwill to all and in this strangest of Christmas celebrations, cherish the "get together" with your loved ones and keep safe and healthy and raise a glass of something to warm the "cockles of your heart".
I hope that the New Year will be one to look forward to with a proper reopening of the track and a resumption of meetings with Natter nights and Speakers and AGM's when we are allowed to meet again normally.
I wish everyone a very Festive Christmas and an optimistic and happy New Year.
COVID-19 – Temporary Track Closure from Boxing Day
Following the news that Cheshire West, Halton and Warrington will be in Tier 3 from Boxing Day (and some areas now Tier 4), we will have to close the track from 26th December 2020 until further notice.
However, limited access to the site for maintenance or security purposes may continue if the following rules are applied:
One member working alone
Two or more members from the same household (or support Bubble) working together
A pair of members not from the same household
This does not have to be the same pairing on each occasion and social distancing must be maintained and track and trace register completed in the clubhouse. (Do not enter clubhouse for any other purpose)
If undertaking maintenance work please arrange between yourselves. Please use common sense if more than one pair turn up as there will not be an online booking system available during this lockdown.
You will need someone who has all the security codes for the gates and the containers and if you do not know them please contact the club chairman or a committee member
Please report any security issues at the site.
Unfortunately, I think that St Mary Magdalene Church Hall will not be available for the 3 months after Christmas and so there will be no Natter Nights or Speaker meetings in January, February or March 2021. However if the situation changes I will let you know.
The Deviation Update 2 – December 2020
The latest report – The Deviation Update 2- December 2020, is now available to read, and The Deviation Gallery has also been updated
You can find out more details in The Track Deviation Report below the Daresbury Gazette in The Daresbury Gazette Xtra, and All photos of this project can be found in The Deviation Gallery Winter 2020
Best wishes and keep safe and warm
BD Linaker, Chairman

Other related Daresbury Gazette articles:
<< Back to Daresbury Gazette