Posted on 05. Nov, 2020 by Tom Taylor in Daresbury Gazette, Daresbury Gazette 2020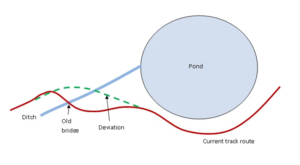 Dear Members,
The Club Track at Daresbury is temporarily closed until December 3rd.following the latest government announcements.
However, limited access to the site for maintenance or security purposes may continue if the following rules are applied:
One member working alone
Two or more members from the same household (or support Bubble) working together
A pair of members not from the same household
This does not have to be the same pairing on each occasion and social distancing must be maintained and track and trace register completed in the clubhouse. (Do not enter clubhouse for any other purpose)
If undertaking maintenance work please arrange between yourselves. Please use common sense if more than one pair turn up as there will not be an online booking system available during this lockdown.
You will need someone who has all the security codes for the gates and the containers and if you do not know them please contact the club chairman or a committee member
Please report any security issues at the site. We will update you on the situation after 3rd December when the government informs us.
The Deviation Update – Track Deviation is a GO
The Committee (having studied the detailed proposals for the deviation project put forward by Dave Mulholland and Craig Scarisbrick) have voted by a significant majority to support the track alteration as being both necessary and feasible while causing minimal disruption to the running of members locomotives.
We have sufficient funds in our accounts to pay for the materials and enough members who are fit enough and happy to do the work. Paul Caldwell has kindly offered his facilities to construct the necessary steel beams. A start has been made by moving all the blue pipes to the site of operations and Craig and Dave will be making more detailed measurements in the next week or two. However, I suspect that the new Covid 19 restrictions may impede progress in the near future.
We fully support all the work that Dave and Craig have put into our track in the past to ensure that it is well maintained and fulfils present and future safety standards. I think that the deviation project will only enhance our track and should make maintaining it easier especially as all of us are getting older.
You can find out more details in The Track Deviation Report below the Daresbury Gazette in The Daresbury Gazette Xtra, and All photos of this project can be found in The Deviation Gallery Winter 2020
BD Linaker, Chairman

Other related Daresbury Gazette articles:
<< Back to Daresbury Gazette