Posted on 18. Oct, 2020 by Tom Taylor in Daresbury Gazette, Daresbury Gazette 2020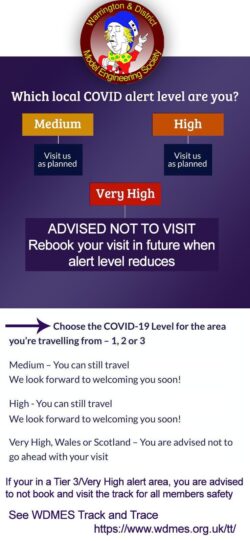 Dear Members,
As you know there has been a lot of discussion about the latest Covid 19 restrictions and the effect on our club's use of the track at Daresbury, which is in Halton, a very high risk area (Tier 3).
If a member is a resident within a Very High risk area, you should not travel out and we advised against coming to the Daresbury Track, in the interest of member safety.
If your a member and resident outside the very high risk area (Medium or High) you can travel in and out but use common sense and observe all rules applied to the area in which you are resident, as well as the rules which we have implemented at the track.
The club house is officially shut it will ONLY be open to turn on the signals. You must always sign the attendance register online on the website for Track and Trace purposes. The rule of 6 still applies as well as masks, hand sanitiser, and keep distance from other households etc.
We are now allowing a "Track Maintenance/Working Party" group of upto 6 members to attend the Daresbury Track as well as the "Loco Running" or "Boiler Test" groups (also upto 6 members) – both groups and bubbles must all continue to social distance and keep apart as much as possible whilst at the Daresbury Track. This means there can be upto 12 members at the track, but each must keep within the bubble and social distance.
If we use common sense and stick to the rules which apply to us there should not be a problem.
If members are not comfortable visiting the club (even with these changes) you should not do so.
BD Linaker, Chairman

Other related Daresbury Gazette articles:
<< Back to Daresbury Gazette