Posted on 21. Sep, 2020 by Tom Taylor in Daresbury Gazette, Daresbury Gazette 2020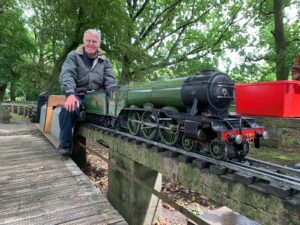 Welcome to a somber September Edition of the Daresbury Gazette – In out in out this is life whilst living with the pandemic. It's no fun at all we as a society are denied social contact with each other and our wonderful hobby. When lockdown was finally lifted to allow groups to travel and meet up our track really did come back to life with unusual amounts of engines turning up for testing and running so much so we ran out of steaming bays.
It was wonderful to finally roam around our track and marvel at how the tunnel has grassed over it looks great. Craig finally got the chance to put his french drain system into reality and it has worked out marvelously it drained the parking area a treat during the torrential downpours in August. Barry Linaker and myself met up with the powers that be at our church hall meeting room for a briefing on Covid 19 distancing whilst using the church hall for meetings. Unfortunately the restrictions were so severe it was decided to cancel our bookings until the country gets back to normal.
22nd Sept further local restrictions come into place restricting numbers allowed to come together. Therefor Tom has setup a online booking system on the website to enable a group of up to maximum 6 adult members at the track at anyone time. Although this is a bit draconian it enables us to keep the track open with restrictions on the use of the clubhouse and toilets. A couple of steaming bays have been taped off to allow for distancing. If any members find themselves left in difficulty locking down the track on leaving they can call me on 07976738565 and i will come to your assistance.
Getting away from the virus I have found myself in a difficult position regarding my Midland single wheeler. It's a problem we will all have to face at one time or another it's what happens to my engine once I've passed on? I've owned the single for 50 years and latterly I've not been having much pleasure from her due to lack of adhesion and my expanding waistline but the waistline is now coming down. My family do not express a desire to own it and I was afraid it may end up on a garage floor or possibly some jack the lad would run off with it for a few quid. So with deep regret my wife and I took it up to Daresbury and posed the engine in the track surroundings and then placed the photos on the Facebook engines for sale site. Within 10mins of appearing we were getting calls from everywhere Germany, France it went mad !! So with a heavy heart and loads of history about the engine I handed her over to her new owner. I must admit it took a load off my shoulders we must understand we are not the owners of these wonderful man made creations we are just the custodians.
So as we enter the autumn we have had a funny old six months no Steam Fair very few social get togethers, visiting other tracks and preserved railways etc about the only one was Phil Parker's 70th birthday party at his railway cottage in Whitchurch. Invitations were put out and a number of our members plus his family friends turned up and we had a wonderful day/ weekend some of us slept over in caravans supplied by Phil. So there you go Phil and Angie are always welcome to have visitors to go and enjoy his wonderful 71/4 gauge ground level railway which runs through the grounds and around the old locomotive turntable and if you feel up to it stop the night a few beers round the fire pit and breakfast on the side of the turntable what more could you ask for. Finally one more victim of the covid is our annual night run which Barry has decided cannot now take place. So cheer up it'll soon be Christmaszzzzzzzzzzzzzz
Patrick

Other related Daresbury Gazette articles:
<< Back to Daresbury Gazette