Posted on 10. May, 2020 by Tom Taylor in Daresbury Gazette, Daresbury Gazette 2020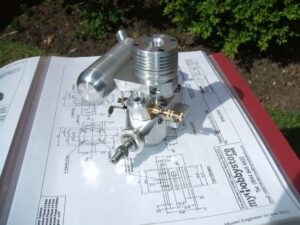 Welcome to another Lockdown Edition of the Daresbury Gazette for May – uncertain times with Covid-19, forcing model engineering clubs and tracks to close temporarily across the world, but allowing for lots of tinker time in our workshops – a silver lining during a worldwide pandemic
Nothing much to report at the Daresbury track, due to government guidelines the track is closed for the foreseeable future until the situation improves with the pandemic
During the lockdown however, model engineers across the world are finding more jobs to do at home in the workshop. Club President Henry Wood has started a brand new lockdown project – Glow Plug Engine, here is part 2:
Since the lock down I was looking for something to get my teeth into in the workshop. With having no room for any more locos, my thoughts turned to having a go at making another Glow Engine, these do not take up a lot of room.

Latest update and progress so far, showing Cylinder Barrel, Cylinder Liner, Piston and Connecting Rod.

The glow engine just needs some gaskets and the running stand to complete.
As lockdown restrictions eased, it allowed Club Members (on separate occasions whilst exercising) to visit the Daresbury track and take some photos, which you can find in the Gallery
This month we also have an update from Club Member Phil Parker with his garden 7 1/4 railway
Greetings from Shropshire!
Our current projects….
Installing new track loop, completing the cleanout and repair to root damage in the turntable, and ballasting track.
Also installed a Stonehenge inspired seating area!
Being forced to drive my engine to break the boredom of isolation (honest!)
Generally getting ready for this year`s open day, once Boris allows us all out and the butchers re-opens.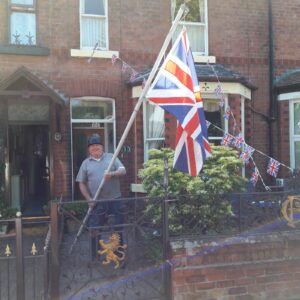 Patrick also had a great time this month, celebrating VE Day 75 – On VE (Victory in Europe) Day in 1945, millions took to the streets to celebrate peace after years of devastating war. Pat played some audio clips from the second world war for all the neighbours to hear – apparently the sound of the spitfires was epic!
We hope you keep well and hope to see you all again soon, so until then: Stay Home, Protect the NHS, Save Lives.
Tom

Other related Daresbury Gazette articles:
<< Back to Daresbury Gazette