Posted on 07. Apr, 2020 by Tom Taylor in Daresbury Gazette, Daresbury Gazette 2020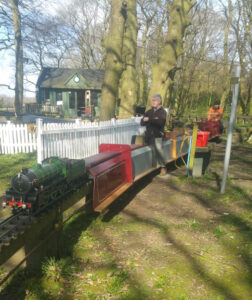 Welcome to a very historic March Edition of the Daresbury Gazette – uncertain times with Covid-19, forcing model engineering clubs and tracks to close temporarily across the world, but allowing for lots of tinker time in our workshops – a silver lining during a worldwide pandemic
Sunday March 22nd went down in our clubs history as the day a virus closed our track for the foreseeable future. It was such a shame as for the few that turned out Andrew Marsh's B1 was put to the test a total of 8 carriages 5 adults and 4x50lb weights were all loaded for a test run. Jake was at the controls just a couple of slips and she dug in gradually picking up speed before blowing off at the first bridge no problems over Daresbury summit and then drifted down round the bottom bend for a blast up to the station a really remarkable performance.
Sadly there will be no more running at our track due to following government guidelines, the club was forced to close down any further activities. Following on from this we have been forced to postpone the AGM and the combined Warrington Model Engineering and Railway Exhibition 2020 due to be held on the 26th of April. More info can be found on our facebook event – https://www.facebook.com/events/188286689069698/. It's almost certain there will be no Cheshire Steam Fair 2020 this year;- yet another set back for what was planned to be a great year to promote our club and its facilities to the local community. If anything changes we will be sure to let you know.
Since we closed the track I received a call from a friend of mine who is a driver on ELR Bury. He asked about our security for the track as they had no sooner closed down and £10,000 worth of loco spares had been stolen from their loco shed. I wrote to Cheshire Police seeking permission for any one of our members, to do a daily track inspection and I am glad to say permission was granted. On my first inspection I noticed signs of activity within the clubhouse area. When I went up again our landlord had been doing some drainage work in the rear field and he noticed a person sat on our picnic table with a lap top he was approached by Richard and he seemed totally oblivious to any concerns we have.
No doubt we will be receiving further updates from the committee regarding security arrangements and subscriptions etc and when and where we will all met up again, so until then: Stay Home, Protect the NHS, Save Lives.
Patrick

Other related Daresbury Gazette articles:
<< Back to Daresbury Gazette