Posted on 20. Apr, 2020 by Tom Taylor in Daresbury Gazette, Daresbury Gazette 2020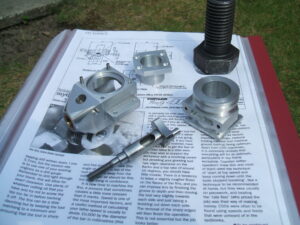 Welcome to a first of many Lockdown Edition's of the Daresbury Gazette for April – uncertain times with Covid-19, forcing model engineering clubs and tracks to close temporarily across the world, but allowing for lots of tinker time in our workshops – a silver lining during a worldwide pandemic
Nothing much to report at the Daresbury track, due to government guidelines the track is closed for the foreseeable future until the situation improves with the pandemic
Members of the WDMES have been supporting the NHS every Thursday: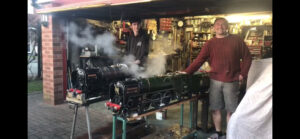 The Marshes have been steaming up their locos on a Thursday blowing off plenty of steam and whistling for the NHS and Key Workers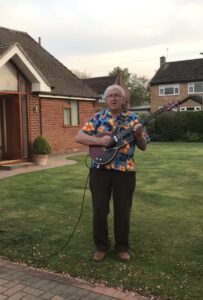 Meanwhile on a Thursday, Malcolm has been making lots of music (and noise) much to the delight of his neighbours, celebrating Key Workers and the NHS
During the lockdown however, model engineers across the world are finding more jobs to do at home in the workshop. Club President Henry Wood has started a brand new lockdown project – Glow Plug Engine, here is part 1:
Since the lock down I was looking for something to get my teeth into in the workshop. With having no room for any more locos, my thoughts turned to having a go at making another Glow Engine, these do not take up a lot of room.

I have drawings for the ' Firefly .46 ' ( 7.45 cc ) by Alex Whitaker, so I looked in my materials box and found that I had enough material thanks to Dave Long (of Aircraft Grade Aluminium Alloy) to make the engine. So I got started and have now completed the machining of the crankcase.

I have a 30 mm. high tensile 8.8 grade bolt, it is one of these that I have machined the crankshaft from. I am currently machining the cylinder liner from another bolt of the same grade.
We hope you keep well and hope to see you all again soon, so until then: Stay Home, Protect the NHS, Save Lives.
Tom

Other related Daresbury Gazette articles:
<< Back to Daresbury Gazette