Posted on 29. Feb, 2020 by Tom Taylor in Daresbury Gazette, Daresbury Gazette 2020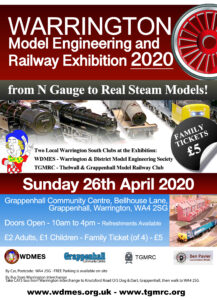 Welcome to a very windy February Edition of the Daresbury Gazette – as its a leap year we take a rare opportunity to release this on the 29th February!
Thursday March 5th from 8:00pm we have our final WDMES Talk of the season about the "History of WDMES" by Club Member: T Taylor (at the St Mary Magdalene's Church Hall, Appleton) – we hope to see many members at this event – More details of this event and future events can be found here
Storm Ciara has been and Storm Jorge is howling all around me so I decided to take a trip up to Daresbury to make sure everything is in the right place happily all is fine. This is largely due to excellent tree management by Andrew Marsh and tidy work onsite by club members on a Wednesday.
Since the last Gazette, we as a club have really hit the big time in the Model engineering world (in the Model Engineer Magazine). Apart from our President Henry Woods describing his Emma Victoria locomotive, we now have a full spread on Keith Rogers 31/2 gauge Himalayan railway B class tank engine. A full description of the engine and it's complexities well done Keith. Also in the same edition following on from the visit to our track by John Arrowsmith a massive 5 page article full of praise for our track. He gives a full description of the layout and facilities provided along with some very flattering photos of our members with their engines. Also a mention of Bob's tea unfortunately. Oh I almost forgot Roy Allen and his class 4 tank adorn the front page. We hope to publish some of these excellent write ups on our website soon.
Whilst we are patting our back's, mention must also be made of the request that was received from Daresbury school via the club Secretary. They requested a visit to the track to make the pupils aware of their immediate surroundings. So on Wednesday 5th 24 excited children along with 6 minders took full advantage of all we had to offer. Barry Purslow with his Duchess, Andrew Marsh with his B1 and John Entwistle with his class 33 provided ample motive power. Thankfully all went very well with everyone benefiting from their visit.
Thursday 6th February We were entertained by Mr Neil Smith who apart from being a first class guitarist was a weapons engineer by profession. His talk was titled 'Behind the iron curtain'. This was one of the most entertaining talks we have ever had. Apart from the wonderful Russian music he played the fascinating story of how the Russian's lured him behind the iron curtain.
All is well on the track and Duncan is forging on to complete the new track signalling near the clubhouse and steaming bays. Things around the access to the track are getting quite muddy due to cars shunting around in such a tight spot this is all due to the really wet winter and our parking area being limited due to sheep in the field. I'm glad to announce the sheep have now moved to pastures new but not onto dinner plates just yet.
On Tuesday 11th February it was the committee meeting and I have been sounding out to a few of our members about the possibility of our club along with the TGMRC (Thelwall and Grappenhall Model Railway Club) organizing a Model Engineering Exhibition on our front doorstep (The South of Warrington), which will help with attracting new members and showcasing the great work our members create. I am happy to announce that we have booked the Grappenhall Community Centre for our very first 'Warrington Model Engineering and Railway Exhibition 2020' on Sunday April 26th as it has adequate parking and facilities and is also home to the fixed model railway layouts of the TGMRC. More info can be found on our facebook event – https://www.facebook.com/events/188286689069698/, please share and invite the local community.
Please Note: The Exhibition has been postponed until further notice
If you have any comments could you please talk to me up at the track or any natter night
Patrick

Other related Daresbury Gazette articles:
<< Back to Daresbury Gazette