Posted on 05. Jan, 2020 by Tom Taylor in Daresbury Gazette, Daresbury Gazette 2020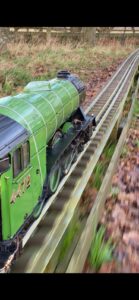 Welcome to the January 2020 Daresbury Gazette – Happy New Year to all our members and visitors!
Well here we are in another new decade 2020 where has the time gone it doesn't seem two minutes since we were celebrating the new Millennium!
Thursday January 9th from 8:00pm we have our fifth WDMES Talk of the season (first for 2020) about the "A Short History of the River Weaver" by Guest Speaker: Colin Edmonson (Mid Cheshire Model Engineers Society) (at the St Mary Magdalene's Church Hall, Appleton) – we hope to see many members at this event – More details of this event and future events can be found here
Christmas has come and gone also the New Year and we are still running! Sunday 29th of December a total of five engines turned out – Weather was dry but a cold wind did not deter the stalwarts from chugging around the track. Then on New Years day Dave Long turned out with his newly completed 5ins gauge 0-6-0 side tank I am reliably informed it ran superbly.
On Thursday 2nd January we had our first natter night of the year at the church hall about a dozen members turned up and we had quite an interesting natter. Dave Long brought along the frames for the 5ins Black Five he is building. Dave's quality of workmanship is written all over it superb fabrication of the drag box has to be seen to believed. Apparently the drawings he has are lacking vital information so he brought them along for comments from the floor.
Henry Woods opened the meeting and explained a slight error in our calendar for this month. That night the first Thursday of the month should have been a speakers night but due to unforeseen circumstances the speaker had to cancel so it was decided to have the natter instead. So this Thursday January 9th we have a talk on the Weaver Navigation. Due to us having three meetings in the calendar for this month a decision was made to cancel the natter night due to be held on the 16th January so it is now cancelled.
Our speaker for February 6th will be Prof Bernard Loveday his subject is Advances in Medicine which will be of great interest too many of our members suffering aches and pains. But he will not be handing out prescriptions or sick notes Ha.
Just to go off our subject on Christmas Day channel 12 Quest put out a two hour film covering The Jacobite a rail trip from Fort William to Mallaig It was without any shadow of a doubt THE BEST EVER railway film shown on television. There was no so called expert doing a running commentary, no adverts, no music just the sights and sounds of the magnificent scenery and a footplate crew entirely on top of the job in hand. The loco fireman must have been in his 20's he must have been born with a shovel in his hands his firing technique was a joy to behold so relaxed and firing through the flap a credit to the company. Driving was Ian Riley of the locomotive engineering company that rebuilt Flying Scotsman. Ian drove the class 5 45407 ( the engine i was passed out on in 1983 ) as though he was just on a Sunday day out no panicking no shouting just a classic bit of locomotive handling. I have now replayed it 4 times it's so good it could be used as a road learning film. Channel 5 put out their version of the run last week and it's not a patch on the previous one so keep looking out on Quest for the repeat and set your timer.
Sunday 5th there was a fair turn out again Paul with his Scotsman, Barrie with his Duchess, Andrew,s B1, Jake with the club Black 5, Dave Long 's 0-6-0 and a new electric BO BO owned by Ray Wilson. Good day had by all with lashings of tea and home baked cookies.
Patrick

Other related Daresbury Gazette articles:
<< Back to Daresbury Gazette