Posted on 22. Dec, 2019 by Tom Taylor in Daresbury Gazette, Daresbury Gazette 2019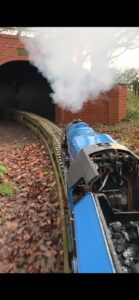 Welcome to the December Daresbury Gazette – Seasons Greetings!
December can be a quiet month but it appears not so at the WDMES!
Paul Caldwell has ran his 5inch Blue Duchess after some recent overhaul work and repaint, please see below:
Final Duchess report. A few of us rounded off the year with a run today. The weather allowed me to have a test run of the newly painted engine. I am glad to say that she ran perfectly. It is always a relief and a joy to see an engine run well when it has been fully stripped down and put back together. I am really pleased and quite proud of myself. Happy Christmas to all.
You can read more of December's ongoings at the track, including our New Year report in January's Edition of the DG!
Merry Christmas to all and a very Happy New Year 🙂
Patrick

Other related Daresbury Gazette articles:
<< Back to Daresbury Gazette