Posted on 03. Oct, 2019 by Tom Taylor in Daresbury Gazette, Daresbury Gazette 2019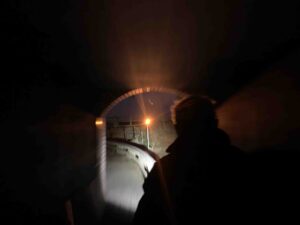 Welcome to the September Daresbury Gazette – Patrick is back for this months edition
Thursday October 3rd from 8:00pm we have our second WDMES Talk of the season about the "Worlds Greatest Engineering" by Guest Speaker: J. Whitworth (at the St Mary Magdalene's Church Hall, Appleton) – we hope to see many members at this event – More details of this event and future events can be found here
It's been a quiet month in one way and another. There was a great get together on Sunday 8th for the scattering of Jerry and his wife's ashes along side the pond up at Daresbury. Jerry's daughter Amanda along with family relatives and friends attended to witness Jerry's Royal Scot locomotive driven by Ben Pavior do two laps of the track carrying the urn containing the ashes before a brief ceremony and a few words before the committal. There was then a long procession of locomotives blowing their whistles back to the clubhouse where refreshments were provided by the family a lovely send off. RIP
Thursday 5th we had our first speaker of the season it was Mr B Dennis 'History of the English long bow' and what a very interesting talk it was. Most revealing was the fact the English long bow wasn't made out of English timber. Also the amount of everyday sayings we use today that came about due archery amazing talk well done.
It was this week we said goodbye to Rob and Stacy Gleave. For years now Rob has threatened to return to Os leaving us with no one to mow the grass! Damned inconsiderate if you ask me! 🙂 Seriously Rob has been an outstanding member of our club his energy is boundless who can forget the effort put into digging the long cutting on the new extension along with Phil and his digger it has been a privilege to work and play trains with him. I'm sure we all would like to send our good wishes to Rob and Stacy for a long and happy retirement down under.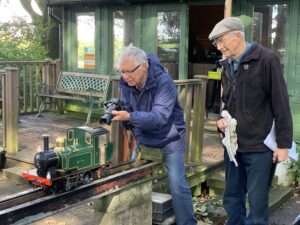 Wednesday 11th we were treated to a visit by Mr John Arrowsmith;- a freelance reporter for the Model Engineer magazine. He arrived very early and took us all by surprise – it wasn't a good start to the day 'weather wise' but the sun came out eventually and a good day was had by all. On leaving after driving Roy's standard tank he remarked how wonderful our track was. We just have to wait now to see if we get a good write up.
Friday 20th started very early for some of our stalwarts preparing for a very long day. Andrew Marsh, Paul Caldwell, Barry Liniker, Barry Purslow and John Waldron all set too and worked all day finishing the brickwork on the tunnel to enable the former to be removed to allow for a safe night run. A mammoth task really well done and on behalf of the committee a massive thank you.
The Night Run 7 – what can we say yet another great night run. After the track inspection and signal check flood lighting etc all was declared safe to run. With a very good selection of steam locomotives and diesel locomotives on show all the trucks were fitted with flashing rear lights (something we can think of doing permanently) and it was time to go. Burgers sausages and cakes were rolling out keeping all fed with lashings of hot tea and coffee to wash it down with was on the go all night. Plenty of photo's of the night run are in the gallery for you all to enjoy. As usual it was left to the same old few stalwarts to tidy up and put all trucks and seating away and make the site secure most of whom had been bricklaying all day. So well done all of you involved.
One last thought can we put up for discussion the need for two night runs one for steam another for diesel locomotives. Reason being the number of trucks available and congestion on the track caused by frequent stops for water etc.
Patrick

Other related Daresbury Gazette articles:
<< Back to Daresbury Gazette