Posted on 31. Aug, 2019 by Tom Taylor in Daresbury Gazette, Daresbury Gazette 2019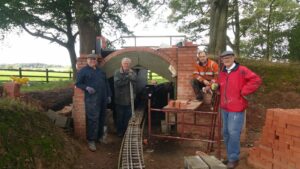 Welcome to the August Daresbury Gazette – Your with Tom for this months edition, whilst our roving reporter 'Patrick' has a report from the clubs visit to Mold MES
Thursday September 5th from 8:00pm we have our first WDMES Talk of the season about the 'History of English Longbow' by Guest Speaker: B. Dennis (at the St Mary Magdalene's Church Hall, Appleton) – we hope to see many members at this event – More details of this event and future events can be found here
We have also recently confirmed the awaited return of Night Run 7 at Daresbury on Friday September 20th from 4pm into the evening darkness! A separate email will sent to members with the details provided by Barrie P.
This Sunday 8th September we shall be remembering former club member Gerry Mole with his family, along with a special train service and tribute via his 5inch Royal Scot at the Daresbury track – members of WDMES are welcome to attend.
August was a welcomed time for reflection and recharge after the very successful Cheshire Steam Fair 2019, but there appears to be no rest for the wickedly talented engineers at the Daresbury Track! Work continues at pace on various projects.
Groundwork and fencing is nearing completion around the station platforms, ready for new plantation next year.
The tunnel exit is progressing well, despite the challenging wind and rain recently, The Marshan's along with Paul and Barry have been putting a shift in for sure.
Duncan has made a start on a brand new commision of signalling system around the return straight and bottom loop near the pavillion before the swinging link, to ensure protection and further safe running at the Daresbury track.
Our friends over at Southport MEC have recently hosted the Curly Bowl Competition 2019, celebrating all things LBSC – more info can be found here along with future photos and a video of the event.
Over to Pat now with his report on the club visit to Mold MES on Wednesday 28th August
The weather forecast for our visit to Mold was grim but it did not deter a good turnout of our members. In total 14 members turned out with 8 locomotives not bad at all. The rain finally stopped around 12-noon anyone familiar with this track know's how tricky it can be with moving turnouts and gradients in a very swampy type of setting.
But saying all that it really is a lovely setting with very welcoming membership.

As promised there was a really gut busting buffet provided by the club a real credit to their hospitality. After lunch running started in earnest with successive locomotives hauling the very impressive display of freight wagons. Our club Black Five ran the whole day very impressive performance for a 3 1/2 ins gauge loco.

Many tales were swapped in the clubhouse over lashings of tea and coffee many of us meeting up with old friends. Our club secretary thanked them warmly for the day and invited Mold to join us for a days running in the near future.
That's all for this month, see you at the Night Run!
Tom and Patrick

Other related Daresbury Gazette articles:
<< Back to Daresbury Gazette