Posted on 30. Jun, 2019 by Tom Taylor in Daresbury Gazette, Daresbury Gazette 2019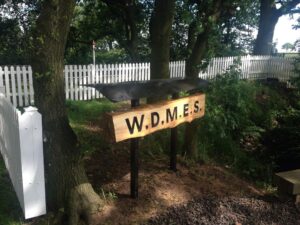 Welcome to the June Daresbury Gazette – Your with Tom for this months edition, whilst Pat is readying himself for the Steam Fair!
Plenty of action at the site up in Daresbury as the days close in to the Cheshire Steam Fair 2019 – Saturday 13th to Sunday 14th – we'll be running trains all day over the weekend, we look forward to seeing you there for plenty of steam action! We are easy to find (once you have gained access to the event) at the top left corner of the Steam Fair site at Daresbury – look out for our flags and banners and the steam engines near the tunnel! – You can find more details about the Cheshire Steam Fair 2019 here in the events section
We'll also provide some photos and videos during the Cheshire Steam Fair Weekend 2019 on our Facebook (www.facebook.com/WDMESDaresbury/) and brand new Twitter account – www.twitter.com/WDMESDaresbury
Annual track and truck inspection has been completed ready for the Steam Fair. Thanks to Henry and Roy and those members.
The Marshan's have made and fitted yellow handles to the traverser for safety and ease of use, and also a hand cranked coal riddle to remove the dust, and the new sign for the track entrance, fantastic job.
New Solar Power and Electrics are completed within the club pavilion for swinging link signal – please remember to turn off before leaving!
The Fencing has been repaired and repainted by Steve Hudson and members to welcome our visitors over the Steam Fair weekend, its looking great.
Some members from WDMES visited Southport Model Engineering Club on the Saturday 29th June for the SMEC Open Weekend, with fantastic weather and a great track to visit – luckily no bush fires this year!
Wednesday 26th June: On Behalf of the committee I would like to thank all concerned – our landlord sends his sincere thanks for our efforts to entertain the Sandymoore Brownies troop on their evening hike across his property. It did turn into a Jeremy Kyle type atmosphere when Barry Purslow had them all chanting 'Barry Barry Barry', and we had 5 engines running also – a Great night 😂
Henry's latest locomotive Andrew a side tank version of his own design turned its wheels for the first time yesterday unfortunately no photo as usual it ran perfectly.
See you at the Steam Fair 2019!
Tom

Other related Daresbury Gazette articles:
<< Back to Daresbury Gazette