Posted on 29. Apr, 2019 by Tom Taylor in Daresbury Gazette, Daresbury Gazette 2019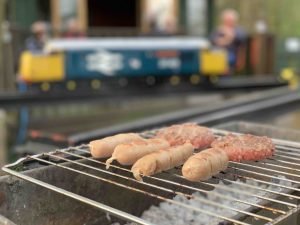 Easter Bank Holiday weekend started early for WDMES Members this year, with a fun twist on Natter Night being held at the Daresbury Track for a 'Natter Running Night' and BBQ, and then a run at the track on Easter Sunday also! Please read on to find out more. You can also view the Gallery of the Easter Weekend 2019 here
The AGM was held last month, with the committee members and roles accepted again for another year (including our newly appointed Chairman Barry Linaker last year), and other details about the club are in good stead – members will be able to find out more in the latest committee minutes (available online here). Lots of fittings, taps, dies, copper tube were sold also after the formal proceedings, with many items purchased at a greatly reduced price! What a bargain!
Maintenance work continues at pace up at the track, readying the site for this years Steam Fair 2019 – it appears the tunnel has recently been painted – The Mysterious 'Who painted the tunnel black!?', and it now appears we now know who did it! – read The Daresbury Gazette Xtra for the inside scoop!
Wednesday 1st May is The Tunnel Extension taking place, therefor the track on this day will be closed whilst the work is completed with Paul Caldwell and his Team of Merry Tunnel Navies! We will have photos of progress on the website soon!
Thursday 2nd May from 8:00pm is the WDMES Natter Night – (at the St Mary Magdalene's Church Hall, Appleton) All members welcome! More details of this event and future events can be found here
It has been brought to the committee's attention that the pre running day track inspection sheet has not been filled out properly. It's only a small error concerning the section relating to track access and signalling – but it must be completed correctly for safety reasons. Due to the main signalling being out of use over the winter, an 'N/A' has been registered 'however 'there is still a signal protecting the swinging link – so although we do check it when installing it, please tick it once inspected and complete the sheet correctly. If needs be, ask another club member to check also if required.
We lost a couple of running days and one Wednesday due to bad weather last month but on the whole we have had a really good winter lots of maintenance and essential track repairs have been completed – Thanks again to David Mulholland and club members who helped! A good start on the new fencing has been made by Steve Hudson it's looking very neat. The toilet block has now been fitted with gutters and down spouts and received a couple of coats of green preservative paint thanks to the gang involved. Paint has been purchased by Roy Allen to paint the container when we get chance to power wash it prior to splashing it in green paint. Andrew Marsh and Jake relentlessly carry on pruning dead branches that could prove to be a safety hazard to the track.
Thursday 18th April should have been a Natter Night but due to unforeseen circumstances (with the run up to Easter) the hall was not available. So I suggested that if the weather was in our favour (which it was!) we could have it at the track – the 'Natter Running Night' is born! So at around 4pm a couple of us readied the track for running and lit a BBQ for anyone who chose to fetch food with them – Well Jake and his dad arrived with scones home made biscuits, and also a lovely walnut coffee cake appeared thanks to Sam, along with bangers (sausages!) and burgers from Brian and Tom, food for all!
As for motive power it turned out to be a busy Natter Running Night with plenty of variety:- steam and electric great fun had by all. Going by the feedback It looks like there could be more 'Natter Running Nights' in the offing. Easter Sunday also seen many great members steam locomotives running on another glorious day – You can view the Gallery of the Easter Weekend 2019 here
We have one more committee meeting before the steam fair, where we plan to draw up a list of suitable loco's and experienced drivers for passenger hauling over the weekend –  If you can help out, please inform a member of the committee.
Patrick

Other related Daresbury Gazette articles:
<< Back to Daresbury Gazette