Posted on 19. Mar, 2019 by Tom Taylor in Daresbury Gazette, Daresbury Gazette 2019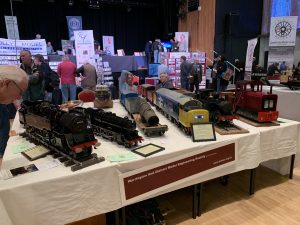 This years Manchester Model Engineering Exhibition (MMEX 2019) was once again held in Oldham Greater Manchester. Brian Renton and Steve Hudson took charge of organising the WDMES Stand and made a very good job of displaying the club's models. The venue is not very exhibitor friendly due to restricted parking allowances being enforced by the local wardens. But despite that I think we all enjoyed the weekend and a big thank you goes out to all those who contributed. You can view the Gallery of MMEX 2019 here
Just lately we have had some atrocious weather conditions (thanks to Storm Gareth), resulting in the loss of one Sunday track day (see The Daresbury Gazette Xtra for the inside scoop!), but luckily no serious tree damage from the extremely high winds this is in no part due to the tree maintenance by Andrew and Jake Marsh and other members who contribute every Wednesday Maintenance Day.
Wednesday 20th March See's the start of Essential Track Maintenance, there are a couple of places on the track that are in need of urgent attention due to tree root subsidence so Dave Mulholland has put a stop order on any running between the 20th and 27th March pending completion of the works.
Thursday 21st March from 8:00pm is the AGM night – (at the St Mary Magdalene's Church Hall, Appleton) The Annual General Meeting is open for all members to attend, please don't forget your cheque books as your annual subscriptions are also due for renewal. More details of this event and future events can be found here
After the AGM, Duncan Webster will be selling loads of boiler fittings, taps, dies, copper tube. This is part of the ongoing clearout of Roger Hall's workshop, very keen prices, bring plenty of cash!
Over the last few weeks the toilet block has received a coat of green paint and are looking very smart. Work has started on the tunnel extension, and the two supporting girders have been concreted into place. When weather conditions are dry enough to get the panels across the fields, work will re-commence. Dave and Craig have been busy repairing subsidence and re-packing sleepers to give a good smooth ride around the extension.
Sadly one of our members Bob Haynes passed away recently, and the funeral was attended by a group of our members to pay our respects on behalf of the society.
To end on a happier note Jake and his Dad (Andrew) accepted custody of the 5″ Gauge Britannia built by the late Arthur Hall a very prolific model engineer in the 1960/70's – he could build engines faster than Vulcan foundry! Roger Hall had repaired the engine fitting a new boiler after a boiler failure ended it's running days. But the engine appeared for a hydraulic test followed by a steam test and to the great delight of all who witnessed it, as it ran perfectly – all be it a small 'chuff' from the left hand cylinder, which on inspection was a very easy fix – a job well done by father and son.
Patrick

Other related Daresbury Gazette articles:
<< Back to Daresbury Gazette