Posted on 01. Jan, 2019 by Tom Taylor in Daresbury Gazette, Daresbury Gazette 2019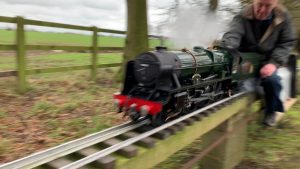 For the last couple of months now we have been looking back over the last year thinking it all ends as far as running is concerned in late November. But here we are in 2019 and we are still blasting!!
This Months edition of the Daresbury Gazette, we feature Barrie Purslows Royal Scot at the Daresbury Track during its first outing, more details below within the DG!
Thursday January 3rd from 8:00pm we have our first WDMES Talk of 2019 about 'Wheel/Rail Interface' by Guest Speaker and fellow member: J. Stow (at the St Mary Magdalene's Church Hall, Appleton) – we hope to see many members to bring in the new year – More details of this event and future events can be found here
What a month December turned out to be, we've not missed a beat with Wednesday working days and they have been very productive, and as far as running is concerned every Sunday, Boxing Day and Sunday 30th December also – how long can this go on?!. Andrew Marsh has done it again! his latest masterpiece has been unveiled i think it has been named Scrubber Mc Srub face (correct me if I'm wrong Jake). It has been put into service straight of the workbench and believe me it does as it says it scrubs the track clean. So clean as a matter of fact the rails literally shine I'm sure all the drivers will be over the moon with his efforts. Soon we'll hopefully be using this on a regular basis across the steaming bays and the full track circuit – watch this space!
December 30th: after 5 long years in building the most beautiful 5 inch gauge Royal Scot appeared at the track, built by Barrie Purslow. The engine is a replica of 46153 The Royal Dragoon in BR green. Despite a couple of very small leaks and suffering from newness, and after a very successful steam test, she pulled away from the station. The first lap was perfect! Lap after lap it just got better blowing off continuously (shall have to have a word with Purslow about economical firing) A load of passengers was put together comprising of myself Rob Gleave and Barry she waltzed away no problem at all no lack of adhesion due no doubt to the two 1/2 whitworth bolts holding a lead ingot between the frames. Barry was so excited about his new masterpiece he decided to retire gracefully at lunchtime, after having a fantastic first run without any issues, well done Barrie! As per, the 4472 Flying Scotsman was on form today (as was Paul!) along with Roy's standard tank and Jake had his Butch, and Andrew ran his Brittania along with Keith who ran his GWR Metro.
We have a new video of Sunday 30th December uploaded to youtube – Royal Scot First Steam Run and The Last Sunday Run at WDMES 2018, where you can see the track cleaner in action, and some of the members engines running at the track!
Going away from running at the track, our web site has been given a magnificent makeover along with the formation of a brand new Whatsapp group chat line. This is intended for all members to keep up to date with club events and general banter. One surprising off shoot of this site has revealed we have quite a number of poets (yes you heard it here – poets!) Night after night from around 22-00hrs your phone comes to life ping pong ping pong all bloody night – but it's all in the best possible taste to quote Kenny Everett. It's great to embrace the latest technology and as a club we will continue to do so during 2019
I think that's all for 2018 so I now pass this on to young Tom who will add any further comments so on behalf of myself Patrick Mullee, I wish you all and your family's a wonderful and exciting 2019.
Patrick

Other related Daresbury Gazette articles:
<< Back to Daresbury Gazette