Posted on 14. Dec, 2018 by Tom Taylor in Daresbury Gazette, Daresbury Gazette 2018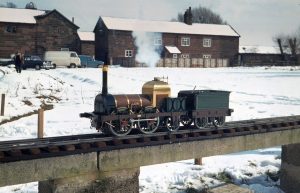 Well here we are 2018 rapidly drawing to a close with Christmas around the corner, as the cold weather starts to take hold at the Daresbury track. This Months edition of the Daresbury Gazette, we feature an 'icy blast' from the past – The Lion in Winter, taken in 1969 by J.W. Mercer at the Daresbury Track!
Thursday December 20th from 7:45pm we have our final WDMES 'Natter-Night' of 2018 (at the St Mary Magdalene's Church Hall, Appleton) – we hope to see many members for a hot drink, a mince pie, whilst we watch a dvd of steam power and reminisce of past events – More details of this event and future events can be found here
Looking back it's been a momentous year, and the weather has been fantastic allowing track running right up to the present time. The Cheshire Steam Fair 2018 was an outstanding success as far as the club funds are concerned, allowing us to make even more improvements to our site. Another bonus from the Steam Fair was we have gained four new members plus two members who co-opted on, in return for their assistance during the Steam fair (Thanks to Ben Pavier and Billy Stock!). 2018 also saw the completion of the tunnel entrance which has overwhelmingly been given the thumbs up – thanks go to Andrew Marsh, Paul Caldwell and John Waldron – and a small bunch of dedicated slaves 'navvies'! Plans are underfoot to complete the rear of the tunnel next spring. We have invested in a new coal bunker freeing up room in the carriage shed and flagging of the overspill steaming bays and walking route to the toilet block are progressing very well thanks to Rob Gleave and his band of merry men! Duncan Webster has routed the wiring for the signal that protects the swinging link into the clubhouse to cut out the necessity to carry the batteries back and forth – you can see some of these improvements in The Wednesday Track Team Gallery of November 2018
2018 saw quite a few special events organised by our club Secretary Brian Renton and Barrie Purslow. Events included many new and returning visitors from other clubs, How far round on less than a pound of coal a hugely popular event, the infamous annual Night Run (Spooks beware!), Freight days running scale freight trains and we also had a visit from the 8D association – made up of ex railway employees, who we're so grateful they left us a very nice donation. Another knock on from the Steam Fair is an increased number of casual visitors, who have decided to pay us a visit whilst out and about in Daresbury – it's all good PR for our track.
Another great improvement is the club web site which has all been done by our resident IT guru Tom Taylor – it just keeps getting better! I'm sure you all agree, well done Tom. We have almost completed our first year at our new club meeting room, and we are settling in slowly. Tom has also recently purchased a wireless microphone to enable the speakers to be heard more clearly. Steve Hudson and Mike still plough on serving up our refreshments as they have done for years. This year also saw a number of our members and members partners suffer setbacks in their day to day health, so along with all our membership we wish them all a swift recovery and we hope to see them all in the near future.
Well I think that sums up our last year and we are all looking forward to the longer daylight which starts in the next fortnight. So on behalf of the committee, we wish all our members and visitors a very Merry Christmas and 'a really good Steaming during 2019'. Bye Bye everybody, Bye Bye.
Patrick

Other related Daresbury Gazette articles:
<< Back to Daresbury Gazette