Posted on 19. Nov, 2018 by Tom Taylor in Daresbury Gazette, Daresbury Gazette 2018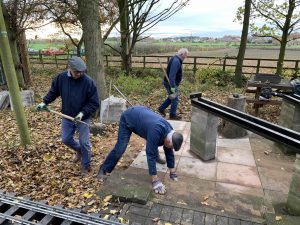 Well November has turned out to be quite an exceptional month, despite the days becoming much shorter and the cold setting in – we certainly have members who are not 'nesh' during the cold months!
Thursday December 6th from 8pm we have a talk by M Crabtree on 'Trains & Trams of Dubai & India', which should be a very interesting talk. More details of this event and future events can be found here
Back to the report for the month so far, and November 1st we were entertained by Malcolm Ross with his talk on a Different type of Modelling – view the gallery here. Malcolm gave an insight into the speed racing of model aircraft on control wires the incredible speeds and technicalities of refueling were jaw dropping. I think everyone who attended the meeting that night went home with a totally different outlook on model aircraft. Our President Henry Woods thanked Malcolm for a really interesting and informative evening.
Regarding track running – Sunday November 4th saw an amazing amount of engines at the track so many we didn't have enough trucks to allow them to operate – it turned out to be first come first served. We also had a swarm of migrating Lady Birds from Asia to contend with on the track! On top of our own WDMES Club and member engines, we had 2 visitors from the Southport Model Engineering Club and a Member from the Urmston & District Model Engineering Society who each brought along an engine. In total I think we had 12 engines a fantastic turn out. Photos of this running day are available in the Gallery – view the gallery here and also You can find a video of this day on our Videos Page, both created and uploaded to Youtube by our web wizard Tom Taylor
Wednesday maintenance update and Rob Gleave with his small band of merry men (volunteers!) have now completed the paving of the three steaming bays that are accessed by the turntable and it is now looking very neat and tidy a job well done. Photos of the Maintenance during November can be found in the Gallery – view the gallery here.
Duncan has beavered on with his task of wiring the signal that protects the swinging link into the club house so it can be powered direct from the clubhouse doing away with the need to carry batteries back and forth. This may also assist with charging them within the clubhouse when the Generator is powered up!
Andrew and Jake Marsh have been busy cleaning up the brick work on the tunnel entrance it really is looking very nice around that area. Our landlord provided his machinery to remove the two one ton sacks of building materials to the other end of the tunnel so that when a design is finally agreed upon we can finish of the tunnel exit. Photos of the Tunnel work and proposed exit can be found in the Gallery – view the gallery here
Sunday November 18th track running was a lovely sunny day and another good turn out of engines, considering it was rather cold. Dave Mullholland had quite a good run with his newly retimed Southern Mogul 2-6-0, along with Barry Purslow with his Black Five, Paul Caldwell also ran his Black Five, Roy Allen with his class 4 Standard Tank, Andrew Marsh ran his Britannia and Jake brought along the WDMES Club Black Five to complete an almost impromptu Black Five Running Day! Also running were two electric loco's, one of which was brought along by invitation via our WDMES website and WDMES Facebook Page for a test run – resulting in signing up two new members, so a really good day – see our contact page if you fancy having a run our track, as a visiting member from another club!
The WDMES Club and its Members would also like to wish for a speedy and successful recovery to: Pauline Webster and Jo Caldwell – wives of our fellow members.
Patrick

Other related Daresbury Gazette articles:
<< Back to Daresbury Gazette