Posted on 30. Oct, 2018 by Tom Taylor in Daresbury Gazette, Daresbury Gazette 2018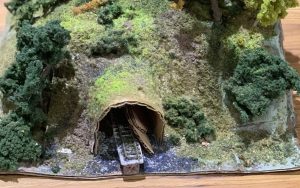 Happy All Hallows Eve! A spooky time of year when model engineers start to think about hibernation and winter projects
October also saw the start of our winter program of guest speakers. First off was Bob Hayter his specialist subject is the Tralee and Dingle railway situated on the south west coast of Ireland this particular railway is relatively unknown to most of those present. It was a very interesting talk especially the accidents that occurred during its operating career.
Our next speaker Thursday 1st November is M Ross his subject is Different types of modelling so get there and grab your seat. More details of this event and future events can be found here
To allow all members to consume the latest Committee Minutes, they are now uploaded to the website starting with Q3 (October) which can be found here – MS Word and PDF documents of the minutes are also available for download – The next Committee Meeting is during February 2019, more details can be found with the Diary Page
Despite the cool weather recently, Running at the track is still quite popular with good turnouts on Wednesdays and Sundays weather prevailing. Winter Maintenance now continues every Wednesday with 'leaves-a-plenty' to rake and move, and some remedial tree work to keep the site safe and clear for loco running – all members welcome to assist.
There isn't much to report on as far as track work is concerned other than myself and Roy Allen put forward a simple solution to finish off the end of the tunnel which wouldn't involve any hard labour and costly materials. The other advantage of our solution doesn't entail heavy trucks having to deliver materials across the fields and also it's a project we can carry out over the winter. After a visit to the Severn valley railway this summer Roy and i noticed the railway makes a lot of use of corrugated buildings in various projects and it doesn't look out of place in a railway environment. So we hit upon an idea to extend the tunnel by a couple of meters and then landscape the extension. A model of our idea was made by John Waldron (pictured in this article) and was shown to the members last Wednesday. After a discussion on how to go about the project there was a vote as to whether our idea was acceptable and we had a vote in favour pending any other members coming forward with an alternative solution. After the meeting on Thursday we can discuss the subject but I must emphasis no work will start until everyone is happy with the plan.
As you may of noticed Tom Taylor has put a new format on the Daresbury Gazette, it has found favour with everyone at the club as it looks very professional and easy to navigate – well done Tom.
Patrick

Other related Daresbury Gazette articles:
<< Back to Daresbury Gazette