Posted on 02. Oct, 2018 by Tom Taylor in Daresbury Gazette, Daresbury Gazette 2018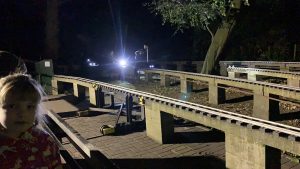 Welcome to the new look Daresbury Gazette! Our web wizard Tom has been working his magic, and hopefully you will find reading the DG much better on your mobile devices and it should also load faster!
We are now well on our way towards winter and the sun is setting on what has been one hell of a summer. Looking back, the Steam Fair was a fantastic team effort by all who took part including two guest drivers and their engines who were invited in due to our lack of larger locomotives capable of running for sustained periods, a great boost for our club funds to enable more improvements.
A visit to the Leyland society by a few of our members resulted in a new contact for our coal supplies. It was found that the coal supplied to Leyland was of far superior quality than our supplier so on the return to Daresbury a decision was made to place an order with the new supplier. It has now been in general use for around three weeks and is proving a wise move.
Sept 2nd we again hosted an event for the 8D Association – the last visit by them to our track was a great day, as most of their members being ex-loco drivers and firemen. There was a great turnout of engines which made it a memorable event for all of those who attended – there was also a late entrant run for the 'How far round on less than a pound' Challenge   – Many thanks to Doug for the photos, which are now in the Gallery here
Our club secretary Brian Renton felt we needed to organise a few members days, so Dave Mullholland organised a freight day on Sept 16th, the event was very well attended. Roy Allen coupled his new BR class 4 standard tank up to the wagons and allowed the engine to free run, resulting in some really good video footage. Maybe Roy could share it with us when he's finished replaying it over and over again !! – Photos online soon!
Sept 28th was the date reset for Barrie Purslow's Night Run, I believe this has now been ongoing for 6 years, how time flies. Blue skies all day meant a drop in temperatures with the sun going down, but despite that we had another amazing turnout with all sorts of battery powered lighting on the loco's. Burgers and posh hot dogs were in abundance along with a large selection of cakes and scones hand baked by Judy Marsh, washed down with lashings of tea, also provided by Judy. So along with our colour light signaling and head and flashing tail lights disappearing into the dark abyss, shrouded in steam supplied by our new miracle coal, it was a very atmospheric night, a credit to everyone who made the effort. Just a pity we couldn't stay the night and enjoy a few beers afterwards, dream on I suppose. – Photos of Night Run 6 are also in the Gallery here
Over the last couple of years we have lost two of our members Bill Underwood and Jerry Mole. RIP. Also a few of us have had something going on in some form or another, but we must not forget the wives who also have had set backs, they are just as important as the men. One lady in particular, Jo Caldwell, very familiar with all of us, was recently diagnosed with a brain tumour, devastating news for all concerned BUT the good news is Jo was operated on, the tumour has been removed and after an initial set back she has regained all her functions which had temporarily ceased following surgery. Today I had a text from Paul and Jo is returning home tomorrow so all our prayers and good wishes have succeeded.
Patrick

Other related Daresbury Gazette articles:
<< Back to Daresbury Gazette