Posted on 30. Jul, 2018 by Tom Taylor in Daresbury Gazette, Daresbury Gazette 2018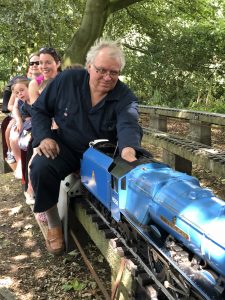 Well everyone who was involved in the most successful Steam Fair yet are finally getting back to some sort of fitness and vitality. All the drivers and engines performed magnificently for the two days. So now is the time to reflect on the club activities over the last month or so. We started with the fun day organized by our club Secretary, "how far round on less than a pound of coal". I think it is fair to say everyone who took part and the observers included were treated to a fantastic club day with tea and sandwiches provided. A massive thank you to Brian for all his efforts.
Over the last couple of years we have learned a lot about what is entailed in intensive passenger hauling. Thankfully there has been no incidents or accidents to report due only to the troops who supervise loading and unloading of passengers, a thankless task when you are required to repeat the loading and unloading instructions repeatedly during the two days.
Another task that arose after the 2017 Steam Fair was the need to have observers on the run up to the tunnel after last years incidents involving water pistols and pellet guns. Thanks go to the troops who spent the whole weekend up there.
three weeks later he's MADE ONE!!
After the disastrous introduction of the new timetable by Northern Rail a group of us decided to take advantage of the free service from Oxenholme to Windermere provided by West Coast railways. A wonderful day we had, Pendelino haulage then a class 33 and 47 loco's and then a open top bus down to the lake where we hired a electric motor boat skippered by Barrie Purslow for a wonderful cruise around the lake and all for £27 quid. Now that's what I call a bargain.
Whilst waiting in the sunshine on Oxenholme station the more eagle eyed amongst us spotted a new form of signal. It is a single LED lamp which gives the stop (red) caution (yellow) and right of way (green).
On our return to Daresbury it was mentioned to our resident genius Ducan Webster and guess what ? three weeks later he's MADE ONE!! along with Bruce prior to the big weekend they carried out minor alterations to the track circuiting and the signals worked perfect all weekend with temperatures in the high 80's f.
Finally, after the steam fair, it took it's toll on my health. I have never regained full fitness since my treatment for cancer although I remain clear, physically I am not the person I was when we were building the extension. So next year we need to look for someone to carry on the track marshal duties and everything else involved, also I need someone who can carry on the Gazette. I've really enjoyed doing it, trying to make it topical and amusing but I need a break. I will remain on the committee until the next AGM but I do need to back off a bit.
Thank you all
Patrick Mullee.

Other related Daresbury Gazette articles:


<< Back to Daresbury Gazette