Posted on 16. Jul, 2018 by Tom Taylor in Daresbury Gazette, Daresbury Gazette 2018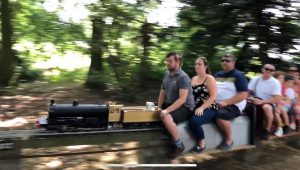 Where do we start ? what a show, what a team fantastic effort by everyone who chose to get involved it wouldn't be fair to name names but I think I could be forgiven in mentioning our tea man Bob he never stopped for two whole days serving tea and collecting cups washing them and starting all over again well done Bob.
Prior to the event a review of what motive power was available within our club and the drivers with enough experience to carry passengers on a very intensive service. The results were we were lacking in both depts so a committee decision was made to invite known drivers who were fully experienced as it worked out it was a roaring success.
Photos of the Steam Fair 2018 are on the gallery and facebook
One other decision that was made was to involve Jake Marsh as Track Marshall working under my supervision. This involved checking boiler certs and insurance documents from visiting loco's and the drivers reading our rules regarding steam fair operations and finally taking them round the track to familiarize themselves. Also controlling the movements of rolling stock and engines.
Amazing how the engines manage to pull so many people
After a hectic hour or so setting up the site we started the show with electric locomotives providing the pulling power until our drivers were ready to perform. Over the two days the drivers and engines worked tirelessly hauling our four two car sets. The decision to make up the two car sets was a great success as last year we were left with two trucks we couldn't use.
Mention must be made of the people who got involved with duties such as collecting fares, helping passengers to board and alight after there run, track cleaning, watching around the track for any unsocial behaviour and generally talking and informing the public of our activities.
Some of the outstanding comments from the public was fantastic how long has it been here ? fantastic value for money. Amazing how the engines manage to pull so many people, But mostly many inquiries about how are they made ? to which the owners would explain the various routes into the hobby.
Our thanks must also go out to Richard Ashworth the show organizer who took it upon himself to mark out our plot on the field which worked out for us very well indeed. Also for the way he has protected our access road from any damage. After explaining to Richard about last years incident involving unauthorized evening running on our track by a group of people who had brought along engines for that soul purpose resulting in damage to our track which we had to repair he informed the site security to have a meeting with us. We were assured by security that they would patrol our site every hour throughout the night so big thank you to them also.
At the last committee meeting a decision was made for a group of us to work out a plan to introduce driving experience lessons with the soul purpose of trying to attract younger members into the club. As it happens every private railway in the country are now experiencing the same difficulty. Posters were hastily printed and put out an display and we have received a few inquiries already so watch this space.
Finally a massive thank you to the wives who apart from baking cakes and getting their hands dirty put up with us cranky old buggers on a daily basis allowing us all to grow old disgracefully doing the one thing we love "PLAYING TRAINS"
Patrick

Other related Daresbury Gazette articles:


<< Back to Daresbury Gazette