Posted on 10. Jun, 2018 by Tom Taylor in Daresbury Gazette, Daresbury Gazette 2018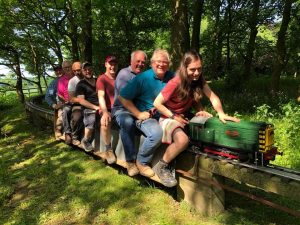 Following a text message from Paul Caldwell in very late April urging me to source building materials to complete the tunnel entrance, and a prompt from our chairman indicating that Roy Allen would be willing to start the footings, a full on attack was commenced. I am now pleased to announce after 5 hectic weeks working Wednesdays and week days, even including track running days, the tunnel has been completed. Due in no small way to the band of three brickies, one of whom had never laid a brick in his life up until 3 weeks ago and that is no less a person but our resident agricultural engineer Paul Caldwell who was trained on the job by Andrew Marsh and John Waldron who himself worked on despite his debilitating health issues. These three men deserve the highest of praise from our club they are our rock. A mention must also go to the small band of cement mixers, hod carriers and general labourers in all activities concerned with the build, even Bob the tea man for carrying tea up to the workface, no mean task at Bob's age, I think he's 90. Since completion the tunnel has attracted many wonderful comments from local residents and dog walkers also not to mention our landlord Richard who is still keen for us to extend around the field!! Photos of the tunnel build are on the gallery and facebook.
Sunday 24th June our club secretary has organized a fun day for any competing loco owners. It is entitled HOW FAR ROUND ON LESS THAN A POUND I'm sure if we attract enough owners this could be a very entertaining day, so come on roll up and have a go. The only prize on offer is the pride in beating Barrie Purslow, surely thats a prize worth having. Sorry Barrie but I do know how proud you are every time you see your name in the GAZETTE.
The photos from the event and Daresbury Gazette article are now online. 
Today Sunday 10th was a wonderful day at the track I had the privilege of driving a much improved loco. After what seems years of endless heartbreak altering the draughting on his Duchess loco, Paul Caldwell has finally struck gold, it steams like a witch, it runs linked up into almost mid gear and has the strength of a boar, what an engine ! But unfortunately it would be no good on the fun day as it, like all Duchesses " The coal miners friends " kept at least two coal mines going ensuring full employment throughout the coalfields. Happy Days.
Also today Roy Allen after 21 long years and a quadruple bypass has finally ran his magnificently finished class 4 Tank engine faultlessly all day. It's been a long slog for Roy involving countless modifications to the original drawings but he's done it ! well done Roy, wish you years of happy running mate.
Finally I have to report the club Black five has been returned to the club half way through it's planned overhaul. Due to circumstances out of our control, Peter felt he could not carry on with the task. Our thanks go to Peter for volunteering his efforts and we look forward to seeing him back at the track soon.
Patrick

Other related Daresbury Gazette articles:


<< Back to Daresbury Gazette