Posted on 02. May, 2018 by Tom Taylor in Daresbury Gazette, Daresbury Gazette 2018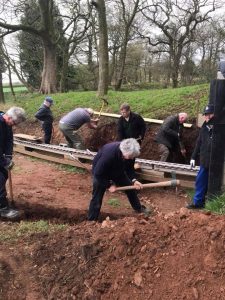 At long last something to report. Over the last couple of weeks work has progressed on the tunnel fascia under very difficult weather conditions. A small but keen group of dedicated members have dug both footings for the tunnel mouth and through pouring rain and hail stones mixed the concrete in preparation for the bricklayers. A vast amount of purchasing, collecting and delivering the raw materials to the Daresbury site was due to the generosity of our club Secretary, Brian Renton. Sourcing from local scrapyards I managed to supply the reinforcing bars at a very cheap price. With the help of John Waldron we located the engineering bricks to enable the build to really start and progress. These were delivered to Daresbury along with a ton of building sand on Tuesday afternoon. A phone call to our landlord for assistance to get the materials to the work site was made and in his words "we will be there in eleven minutes" and he was and the job was done.
Today, Wednesday, John Waldron laid the base for the two pillars and the brick fascia ably assisted by a small band of mixers, hod carriers and of course the usual observer corps. So a great start to what should be quite a striking feature to our track extension.
Work has progressed in and around the site including ditching drainage and track maintenance.
Meeting Thursday 03 May, where you will get a complete update.
Patrick

Other related Daresbury Gazette articles:


<< Back to Daresbury Gazette