Posted on 15. Jan, 2018 by Tom Taylor in Daresbury Gazette, Daresbury Gazette 2018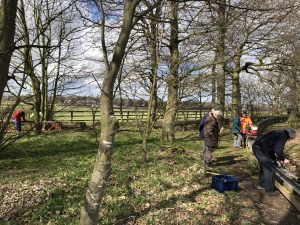 Nothing much to report on down at the track. Over the Christmas – New Year period I and a few others ventured up to Daresbury. The only action was from the two stalwarts Andrew and his son Jake. Andrew has been putting his bush tucker skills into action again; he has constructed a platform for the batteries on the signal, protecting the swinging link.
January 4th was our first talk of the new year at our new venue. More details here on the location page
Julian Stow gave a very interesting talk on the development of steam engine indicators. For those of you who wouldn't recognize one if it fell out of a tree in front of you, it's a device invented very early on in steam engine construction. Basically, it's a container with a revolving graph with scribes operated by a spring loaded wire connected to the crosshead. This shows the action of the piston and through various pressure and vacuum censors the machine records the steam events and back pressures in the cylinder.
Patrick

Other related Daresbury Gazette articles:
<< Back to Daresbury Gazette