Posted on 16. Jan, 2018 by Tom Taylor in Daresbury Gazette, Daresbury Gazette 2018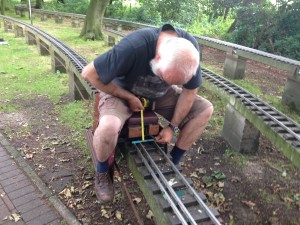 Still the rain pours, and there doesn't seem to be any let up in the near future. But the usual stalwarts, Andrew Marsh and his son Jake, plod on running and testing their engines, Andrew is test loading his Britannia and it's coping very well. Andrew has been busy again using his bush tucker skills removing branches and he has also built three benches; two have been put in place either side of the water tap in the station area, intended to be used for storing the coal buckets and oil cans instead of them cluttering the station area. It's a job well done. The Wednesday gang, when weather permits, are doing routine maintenance in and around the track. There has been a number of tasks highlighted, so we must put them in order of priority for when the weather and access improves.
Thursday January 18th was a bits and pieces night. It was a good turnout, with quite a few objects up for discussion, one being Henry's latest project, a side tank version of his Emma Louise and what a lovely model it's going to be. One other new project to scrutinize was Amy's new steam tram (electric really). Quite a few other objects were on show so all in all, considering the weather, it turned out a very enjoyable evening.
February 1st, we had a really interesting talk and slide show presented by Mike Crabtree on the subject of the Great Orme Railway. His presentation was really fascinating; he has been involved with the engineering side of the refurbishment of the whole railway. For those of us not familiar with rope hauled railways, it was mind blowing, the complexity of the rope way and the turn round procedures at either end plus the gradients involved. Part of the presentation was on the emergency braking system which, if there ever was a rope failure, a huge block is forced onto the track and brings the tram to a complete stand-still in a matter of feet, amazing. There were plenty of questions from a very appreciative audience.
Patrick

Other related Daresbury Gazette articles:


<< Back to Daresbury Gazette