2013 Dairesbury Gazettes

Wednesday 18th Dec
The weather forecast was pretty dire, so some of our more wussy regulars didn't turn out. As it transpired, apart from being a bit windy, it was quite pleasant.
First the news you've all been waiting for. After the recent spate of poor connections on the track circuiting, I have made a meter which more accurately replicated the actual operating environment, ie it sends about 2.5 mA through the rails and measures the voltage across the resistor wired across the far end of the section. Needn't have bothered, no problems at all this week, so we drilled the rails right back to the signal by the end of the carriage shed. Still, it was satisfying to watch the needle plummet to zero and stay there with no flickering each time Vernon went past. This is all we need for this stretch, if I'd remembered my rotary wire brush we could have done the interconnections, as  our latest member had made the required ally washers (thanks very much). I've checked with a metallurgist and we shouldn't get any corrosion problems with stainless bolts, so no more pop rivets. Good job I'd taken my petrol powered drill (think about it) as Roy's new battery gave up after about 5 minutes.
Other members in the meantime were digging a trench from where the existing flashing light signal is up to the end of the swinging link. We laid in some of the alkathene pipe left over from the solar panel experiment, and managed to get a length of flex full length. Trying to just push it along didn't work too well, but we then found some stiff fencing wire, that sorted it. The cable for the existing flashing light is laid on the ground, if you're up over Xmas watch out you don't trip over it. The light should still work (famous last words).
Whilst all this was going on, Rob was continuing his improvements to the block paving, this time filling in underneath the access track.
We gave up fairly early, as the weather looked as tho' it was about to break, but as of 16:00 it's still not raining in Warrington.
Next meeting is 2nd January at Stretton, Bruce's talk on etching nameplates, (he brought one along today, marvellous). No-one has mentioned running over the Xmas holiday, so Merry Xmas and a Happy New Year to you all, or if you're that way inclined, Bah Humbug

Regards
Thursday 12th dec
The talk on the Fell loco last Thursday kept people quiet, it was either very interesting, or you were just bemused and hoping I would finish quickly. Bruce has Googled and found someone is actually building a model, complete with its wacky gear arrangement, but driven by electric motor. There is another one here http://www.cabbagepatchrailway.co.uk/fell.html driven by 4 glow plug engines, now there's a challenge.
Turned up at the track yesterday to find that the secret road builders had been busy again, the planings now extend all the way up to the access gate. This really has been a sterling performance, thanks to those involved. The road across the first field is being heavily used by our landlord, it is standing up to it, but we are going to approach him and see if he will use his machinery to apply more  material to this section.
I checked out the continuity on the track circuiting again and found some more loose joints. The pop rivetting idea seemed good at the time, but doesn't seem to be reliable. Drilled 2 out and replaced them, I'll keep on checking. If anyone is looking for a small project to distract them over Christmas, we need 30 off aluminium washers, 8mm OD, 3 mm hole, 2mm thick. This is for attaching the aluminium jumper wires between the rails. I've already made a lot, but used them all up. A means of attaching signals to posts so they can easily be taken down has also been devised, and met with approval. Vernon was circumnavigating, which was useful as it gave me chance to test out the wheel/rail continuity.
Rob brought along his traction engine, very very nice indeed. Didn't light a fire in it though. There are rumours that he is going to do a tour of Appleton Thorn on Boxing Day.
The side panels off one of the old red trucks were removed (brute force and angle grinder!), Bruce is going to deploy his artistic skills, they are looking a bit shabby at present, we mounted a rear light bracket on the end board of the other red truck ready for the next night run.
Rob continued in his quest to convert the block paving into a bowling green, it gets flatter every week.
That's all
Duncan
Friday 6th Dec
Good running day last Sunday. Four steam locos and 2 electrics (I think). One of the electrics was the slowest loco I've ever seen, I think it needs a bit of attention to its gear ratios. The re-commissioned swing link light worked, but it was deemed that it would be better if the reds flashed as they did before its latest rebuild.
Wednesday was another good day, lots of clearing of leaves, Rob did some more levelling of paving around steaming bays, I worked out a way of getting cabling onto the swinging link (ready for track circuiting), and we planted the two signal poles. Three more needed, if you can scrounge 6ft lengths of scaffold pole or similar get to it.  Otherwise we'll have to buy some, but that is a last resort.
Thursday's speaker was going to be Stuart Dawe, but the September speaker let us down at the last minute and Stuart kindly re-arranged. I failed to find a replacement, so those who came on Thursday had to put up with me droning on about the Fell Locomotive. Bruce then showed some more LMS training films, one on building a Princess class loco, the second on the duties of a signalman. Seems that signals always go distant, home starter, even on sections of track with no station. Can anyone explain the difference between a home and a starter?
Next Thursday is HotPot supper, then nothing until the new year (unless we decide to have a steam up over Christmas). There will of course be the usual gathering of the Wednesday fraternity, weather permitting.
–
Wednesday 27th Nov
Last natter night we had some early BR training videos, followed by what I think is a first for the club, MikeP reciting poetry. Perhaps my reference to Vogons (google it) was unkind. Decent weather again today, the access road is holding out nicely. If it doesn't put a lot of rain down in the next few days there will be a running day on Sunday, possibly the first time we've had a running day in December since we lost tarmac access all those years ago.
Jobs done today included:
Fitted new end boards to one of the old trucks. Bruce has made these at home and the paint finish is superb. Craftsman Coach Enamel is the answer. Slight glitch, when we went to put it in the carriage shed, the new end board hit one of the roof trusses. A brief session from Roy with saw and chisel soon put that right. No doubt the other old truck will be dealt with in good time.
Installed new switch for swinging link signal. The old one burnt out due to inductive load and no freewheel diode. At the last steaming day no-one bothered to operate the temporary manual switch, so we had a green signal with the link open.  I've altered it so that a transistor switches the relay, so all should be well, but it will all change again when we commission the track circuiting.
Adding ramp to locking plate on swing link far end. At least if you operate the link with the bolts extended you'll only disturb one pillar now.
Modified handle for swing link now fitted. Let's have your opinion, there is another scheme in the pipeline if we don't like this one.
Checked continuity on track circuiting, there wasn't any. Tightening one screw sorted it, but it will be checked regularly to ensure that this isn't a recurring problem (aluminium corrosion). As usual we have a plan B involving magnetic switches if track circuiting defeats us.
Shifted loads of leaves and had a good tidy up.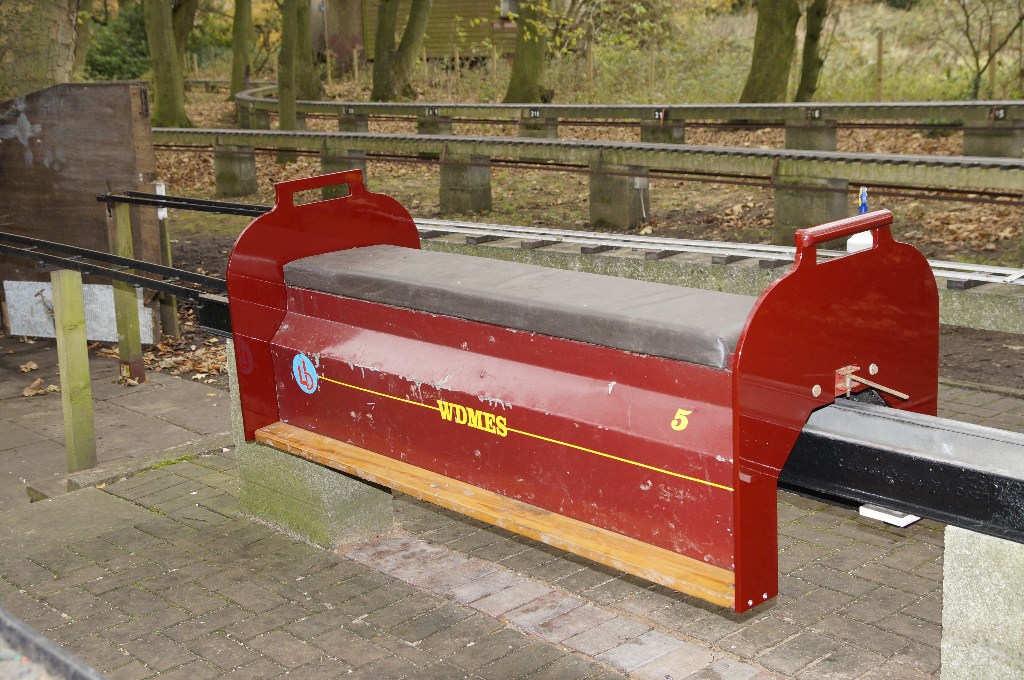 Whilst all this was going on, Vernon was circumnavigating, his loco will be worn out at this rate.
The speaker I had booked for September let us down at the last minute, so December's speaker (Stuart Daw) kindly switched to Sept, so you'll have to put up with me expounding about a rather strange early diesel loco. Bruce has promised some more videos as well. This really must be the last call for the hotpot supper, which is on 12th Dec at Daten. Contact Sam Simms.
Wednesday 20th Nov
Running day last Sunday was a success, 4 steam locos and one diesel, the clouds of steam hanging around are quite atmospheric at this time of year. The resurfaced road is a success, without it we'd have been in trouble. I think this might be the latest in the year we've managed to run since we lost tarmac access all those years ago. Wednesday was not so successful. I got there about 11, beautiful blue sky, to find only 2 members on site, Vernon going round and round and round on his radio controlled battery electric, and BrianH watching. I took over watching duties until Mike P arrived, but it didn't actually start raining until about 12:30, just as the BBC had forecast. Then it did rain. I've taken the swinging link signal away for modification (again, perhaps I'll get round to it this time) so if you're running you'll have to manage on hand signals. Natter night tomorrow, then speaker on 5 Dec. There is still time to book your place on the social event of the year, yes the (in)famous hot pot supper, which is on 12th Dec at Daten. Contact Sam Simms tomorrow.
Wednesday 13th Nov
The first field is getting pretty muddy, must be Mr Farmer with his heavy machinery, not a lot we can do about that, however as of now(Friday evening) it hasn't rained so should be OK for another running day on Sunday. He's ploughing the filed where the spuds were for winter wheat (or barley). Don't forget the manual switch for the flashing light (which is actually in my workshop, must drop it off in time) Dave M brought his new loco again, it must have worked OK because he just kept on running. Someone suggested he was trying to recoup his subs in coal. Otherwise we teed into the water supply and fitted a tap near the new steaming bays. Once we had worked out how to dismantle the UPVC fittings (last resort, to read the instructions) actually fitting it went OK, but when we turned it on no water issued forth. The tap had some kind of non-flow-back valve and a filter fitted, with our low water pressure nothing could get past. We soon managed to prise out all extraneous gubbins and get a decent flow. One of the jobs on the board is to make a little house with small door for the stoptap. In an attempt to make operating the swinging link easier Henry had brought a Z shaped extension to the operating handle. Opinions on its success were mixed, but it's dead simple so we'll give it a go. We've got enough scaffolding pipe for 2 signal posts, we need another 3, of the order of 5 ft long is ideal, but we've got a hacksaw. Must be galvanised or alloy. I intend to start placing the posts next week, then it's digging to bury the cable kindly donated by Phil. Whoever cleaned out the ashpits last was a bit enthusiastic, leading to the haunching against the bricks being undermined. After some discussion we decided to fill in one of the pits with paving bricks level with the surround, see how it goes, certainly makes it a to easier to sweep up. You should in any case sweep up after dropping the fire, don't leave it for someone else. I've never understood why people drop fires whilst they are still red hot, it only takes long enough to have a brew for it all to cool down. If you're in a tearing hurry there are galvanised bins into which you can drop the hot stuff. If you haven't already contacted Sam Simms about Hot Pot, now would be a good time. It is on 12 Dec at Daten Culcheth, cost £9.25. Contact Sam on 01942 884126 Natter night on 20th Nov, then should be a speaker on 5 Dec, but if you remember the chap who should have been doing September backed out at the last minute, so I persuaded the December speaker to re-arrange. despite several enquiries I've failed to find a replacement. I'll keep trying, something will turn up, it will be a pleasant surprise (or not)
Wednesday 6th Nov
Unfortunately by the time the round tuits arrived, I'd forgotten what happened (put it down to Secretarial senility), apart from the latch plate for the layby siding is now fitted, and the siding is operational. Running day was rained off, only one member turned up, and he sat in his car then went home.
Wednesday 28th Oct
weather man got it wrong today, quite pleasant actually. After all the recent rain we walked across, but the last bit of roadway not metalled had dried out, and would have been OK. No sense in chewing it up unnecessarily, should be OK for running day Sunday provided it doesn't rain too much. Good turnout, and quite a few jobs done. Rob and his band of helpers extended the block paving under the swing link to accommodate the extra swing for the layby siding, Bruce fixed the buffer stop in place (looks very good), the endstop in the carriage shed was sorted. As the flashing light for the swinging link will be totally rebuilt over the winter, I've rigged up a temporary manual switch to cover what's left of the running season. Before you open the link, operate the switch, and turn it back off when you've finished. You can see that the light is operating as there is a repeater in the back cover. We also spent some time working out how to improve operation of the locking lever. Henry is going to lay it out on the TurboCad, so that's another job for winter. Unseen by the rest of the Wednesday gang, Rob Fozzy and Mike C have been beavering away on the roadway, bringing 2 te loads direct to where it is wanted. Talk about unsung heroes, well done chaps. Still plenty of jobs on the 'to-do' board, and we keep adding them as fast as we knock them off. ass long as it keeps changing we're making progress, Now the important bit.  two thirds of the way across the first field on the right hand side of the roadway a badger set has collapsed. You can easily drive past, but keep towards the hedge. Another job for next week. Of course if you're coming in a car and want to get rid of some rubble, now is your chance! Next Sunday 3 Nov (weather permitting) is running day, Thursday we have a talk about LNWR.
Wednesday 23rd Oct
Well they say no news is good news, so this is very good. The rain was lashing down this morning, so no-one came and no-one went (shades of Addlestrop, google it) Actually a bit later on it stopped, so Paul and I went up to investigate the signal problem, see below I didn't get to running day on Sunday, but another of our roving correspondents (Henry) sent me this We had a good run at the track today, Barrie with his Class 5, Roy with his Poly, Bob with his diesel,Gerry with his Scot and me with Simplex, It stayed dry until 2 pm.when a shower came just as we were bringing locos off the track. The road way is a big improvement even after all the rain on Saturday. The main purpose of this E mail is to tell you that we had a problem with the signal lights. When I put the signal out and connected the plug and the battery,the Green light came on,I opened the swinging link to check it's function and found that we still had a green light. It appears that the reed switch must be stuck in the normally closed position. I've looked at the problem and it is indeed that the switch has gone short circuit. It may be because I didn't include a freewheel diode for the relay coil, so that is another mod. It's all getting rebuilt over winter to incorporate a distant light, so I'll bodge it for next running day. Next big jobs are building the generator house, and finishing off the road. We've had a volunteer to bring material in 1-2 te batches and drop it off in situ, so a lot less work. There is then at least one beam that wants replacing, and a host of little jobs on the list in the pavilion. Regards
Wednesday 16th Oct
Good turn out today despite the weather. The man with the power shovel came Tuesday and moved the remaining planings into heaps along the route, so it all went very much more quickly today. Much shorter wheelbarrow runs, and it was all loose, no need to attack it with a pick to get it out of the heap. Despite the weather we laid all of it apart from a heap we've left to sort out the bend in the second field. We didn't lay it wide enough to allow for back wheels not following front. All being well this will be sorted Thursday morning. We ran out about 50 yds short, but there is no point laying it too thin. A member has volunteered to bring 2 te loads on his trailer, so we will finish off over the next couple of weeks. If anyone has need to get rid of rubble (no larger than your fist) we have the ideal location. Whilst all this was going on, and everyone was getting very wet, DaveM brought along his new loco, a Southern class U. Very nice indeed to look at, but we wait for next time to see it run as we were all slaving away with shovel and wheelbarrow.No photos sorry, forgot my camera. No progress on layby siding,  enough going on. Natter night tomorrow, then running day Sunday. Speaker on Thursday 7 Nov is Ted Talbot, talking about LNWR, keep all you gricers happy. Regards
Wednesday 9th Oct
Hi, Another good day, we had one team laying rail on the layby siding, which is now nearly complete (needs lockplate making) and another team on the road.  See pretty picture of layby siding.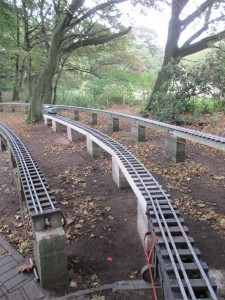 So far on road building we have had: Saturday
1 man Sunday
6 men Monday
3 men Wednesday
7 men
We've got as far as the dip just round the right hand corner in the second field. We've probably shifted over half of the 30 te,  but from there it is a long way from the pile, and uphill, so we've abandoned barrowing and have arranged for a man with a power shovel to come early next week to drop what's left in heaps along the route. No more shovelling until next Wednesday. Whilst it was heaving it down a couple of us fitted a stop bar across the end of the carriage shed roads. Anyone got some old car valve springs or similar to make buffers
Wednesday 2nd Oct
Hi, Very good day today, we managed to complete the pillars and beams for the layby siding, even as far as cutting the sleepers.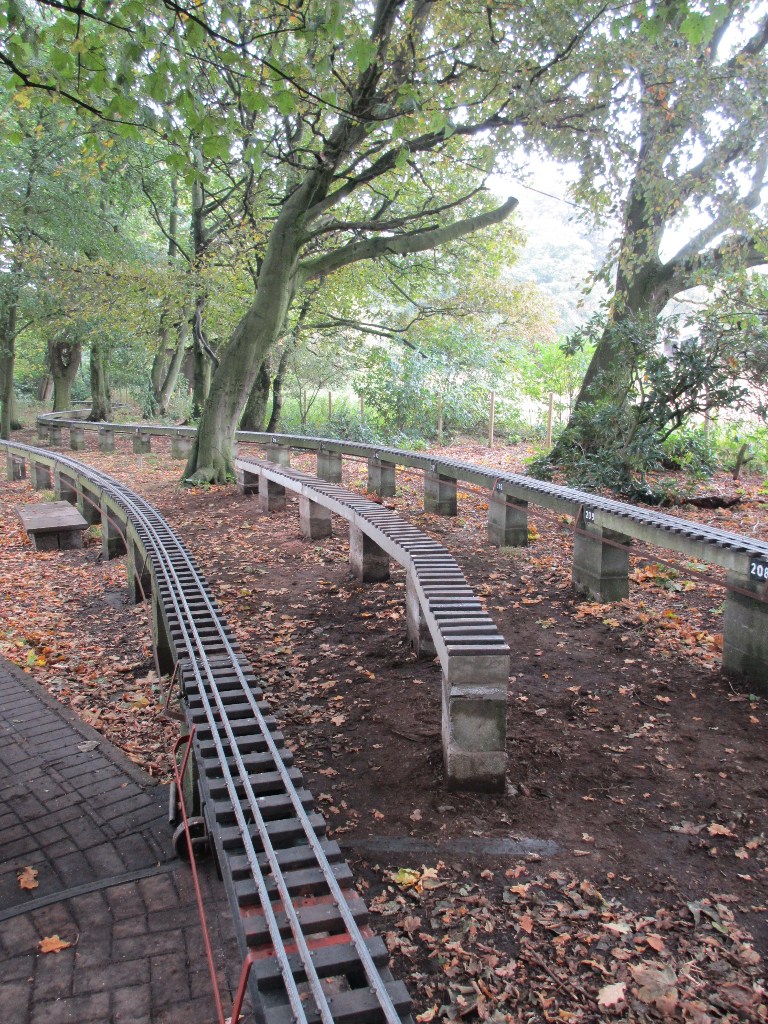 Time then for a well earned cup of tea (another photo in gallery). Next week we will be fitting the track, so if you're coming bring your battery drill (if you've got one). We've even checked that we have sufficient screws and plugs, there's organised for you. We need 9″ of 50*50*5 (or 6) angle to make socket for the locking bolt, the new beams do not have the half round recess like the old ones. Any offers?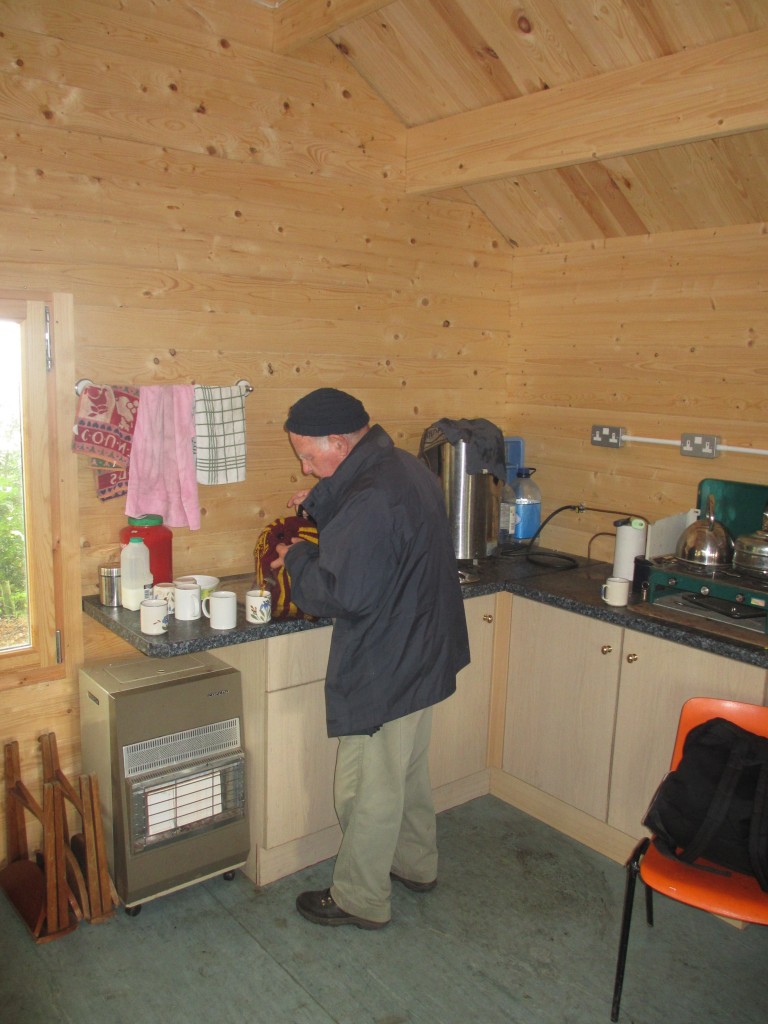 DaveF with his glamorous assistant MikeC brought across sufficient flags for the generator house platform, and some more blocks, all kindly donated by Phil. I spent a few minutes finishing linking the rails for the first section of track circuiting. T'committee have agreed to fund 4 off automatic semaphores (2 distant 2 home), and I will modify the flashing light (yet again) to incorporate a yellow distant light. Very important that that one is observed, otherwise you will fall into the gap when the swinging link is open. If you don't get a red or a green, it's not working so stop anyway. Mentioning the swinging link, we noticed late on that the spring loaded plunger which locks the bolts in the retraced position has gone sticky again, and has developed a habit of releasing when you haven't asked it to. This means the locking bolts fly out and if you then move the link, the bolts crash into the concrete beams with predictable results. Please ensure that the bots are locked back and stay back when operating the link. We will sort it out ASAP, but we didn't want to disturb it with a running Sunday coming up. We are going to have a look at what can be done to make operation of the bolts easier, at the moment you need to be a bit of a contortionist.
Wednesday 25th Sept
Funny sort of a day, raining early on (I'm having to get up very early to take #2 son to work), then overcast, muggy and flat calm, looked like it wanted to thunder, but it didn't. Just the sort of day to renew your faith in wind power! If you want to see how effective it is at providing a steady flow of electricity look at http://www.gridwatch.templar.co.uk/ Over the weekend some progress was made in wiring the pavilion, but the perpetrator has to work, so no more today. Main jobs were lifting and relaying some of the block paving to level out a dip, and building the pillars for the layby siding. We added another foundation so it can be a bit longer, cemented in all the base blocks and three of the top blocks. Took a while sorting out exact position of pillars to get a reasonable curve, too tight and the big trucks will derail. In course of this we measured the curvature of the tracks in the carriage shed. The one nearest the pavilion is 20′ radius which might explain why the big trucks have a tendency to derail if you out them on this road. I always try to put the old red trucks and 4 wheelers on this road. Next week finish pillars and perhaps place beams. No natter night tonight, Running day Sunday, then speaker on Inland waterways next Thursday Regards Thursday 19th September This journalism thing is obviously getting popular, I have a report from our night running correspondent BarrieP as follows
Just a short note to say thanks to everybody who turned up at the Daresbury track last night. Although I was "officially" the organiser of the event I feel my input was far exceeded by many members who, acting on their own initiative in the best traditions of the WDMES, did all the necessary work to ensure that the evening was a success.
I say "was a success" because I didn't receive a single complaint on the night and all those whose opinion I sought were very positive. Maybe possible complainants were deterred by a certain hot Britannia in which case I would be happy to hear from them at any time. This will help make it even easier should we ever do it all again sometime in the future……………..
Cheers,
Barrie All told a riotous success, 8 locos in total. Good job Gerry had made those rear lamps because some people turned up without. If in doubt RTFM. The new generator earned its corn powering the massive floodlight provided by PhilP plus 2 electric griddles for Pat to feed us with burgers and sausages. PaulM brought a second genny and lights for the loading ramp. The best illuminated loco prize was not awarded as there was only one entrant, the club battery loco draped with fairy lights. Must say iit looked quite bizarre. None of my photos turned out, if anyone has some pass them on. The prototype signal worked a treat, people actually took some notice, no SPADs Running day 29th Sept, see you there
Sunday 15th September
From our assistant editor (self appointed) Paul Caldwell I am taking it upon myself to act as reporter for the Daresbury Gazette as the editor was not present at today's running day. It is just my luck after all the teasing I get about failures, of one description or another, that very few people were on site to witness the glorious running of my Britannia "Oliver Cromwell". Luckily I do have witnesses and I will be calling upon them to regale tales of how impressively the engine performed. The hand pump was never touched in lap after lap of trouble free running. My work timing the nearside cylinder, after the last debacle where the eccentric axle rotated in the wheel, proved to be spot on. My newly improved reversing mechanism also faired brilliantly. The one down side of my day was a small leak from my new drain cocks but it is just a matter of adjustment. I know you will all be excited to see it run come the running night. PaulM turned up just as the kettles boiled and after scrabbling round to find some long life milk we were joined by Rob and Phil and then a little later by Pat and Brian. No other engines were to be seen so I had sole use of the track and Pat shared some driving with me. Of course I could not remove the silly grin from my face. It did start to rain just after one o clock so I called it a day and let the engine blow down while we had lunch and a chat. Paul has done some more of the wiring for the generator but no other work was done in favour of just sitting supping tea and putting the world to rights. At about two o clock the engine was loaded back in the car and we locked up and left for home. This is where my long journey home started, as upon arriving at the bridge I found it closed. I had wondered why so much traffic was coming the opposite way. I ended up going to the end of the expressway on the Frodsham side and then going up the M56 to the M6 to the M62 exiting at junction 7 for home. It was still a great day, spoiled only by the home run, and I managed to do all my running in the dry. Thanks to all who considered coming but were put off by the weather forecast. You left us with a grand solo run!
Wednesday 11th September
Started out OK but then it rained. Very good turnout, we need to start having lunch in shifts, pavilion is too full. Nice to see Bruce back. I was busy all day, so didn't get to see what some of the others were up to so apologies if I've missed out your contribution Swinging link signal switch has been getting very unreliable, so it has been altered to a magnetic reed switch. This means that it now fails a bit safer, if the switch fails to close the red lights stay on, previously if you tripped over the cable and unplugged it the red stopped working (been there done that!). There is now a green light as well. If you see neither green nor red, it has malfunctioned and you should be prepared to stop. All I need to do now is glue the magnet into the brass bolt, but I didn't take any araldite. The signal itself is in my workshop, I'll try to have it back by Sunday, but as you know I'm not an early riser. It will be fixed for the night running next Thursday GerryM brought along a fleet of flashing red lights and brackets to fit them to the back of the trucks. Don't let this discourage you from additional visual displays. There might be a small prize for the silliest. Paul brought along a silencer for the generator. This confirmed that a lot of the noise is mechanical, having the generator in the container with the doors closed over just leaving the exhaust poking out certainly reduced the noise substantially.. It is going to be installed next to the tool shed in a removable soundproof, ventilated box. The automatic signal which was demonstrated last Thursday was tried out on the track proper. You can see a video clip on the club website under (would you believe) videos . Don't blame me for the soundtrack. This worked a treat, so a gang of us then moved on to bonding track sections together. We'd done quite a few temporarily with copper wire when Gerry arrived with the proper aluminium, so we'll have to re-do the copper ones, but cleaning the rail and drilling the holes is the biggest job, wiring is easy.. What we've drilled so far will be sufficient for one track section, which we'll leave running well into next season to prove it works long term. You will notice on the video that the paintwork on one of the trucks has been badly damaged by someone mistreating it. When a member went to such lengths to paint it up, taking it home to do a proper job, it's a bit much when this happens. It will now have to be painted again.. Meanwhile PaulM turned up with a big box of electrical gubbins, the pavilion is now well on towards being wired up see photo attached. It took several highly qualified engineers quite a long time to work out how to get the towel rail down so it could be moved out of the way. In the process we've fixed the 'to-do' board in a more prominent position, no excuses!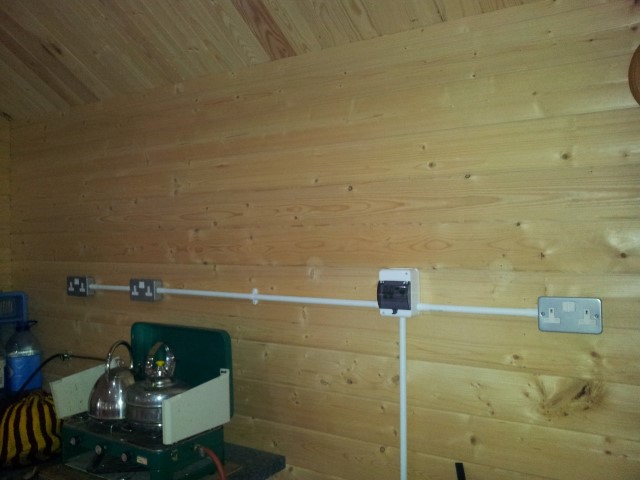 The man with the new beams let us down. He now claims he is too busy to deliver them (we haven't paid, so don't panic), but will give us a discount if we pick them up from Liverpool. I reckon it's about 1.5 tons (2.25 cu ft at 150 lbs/cu ft gives 338 lbs each). Anyone got access to a suitable vehicle? We can pay mileage of course. It's Hatton Show on Saturday, but we only found out last night that they've moved it onto the first field through our gate. At such short notice we couldn't get sufficient people to commit to run on Saturday, and anyway the way they've set out the field it is debatable how much custom we'd have got, so it's just normal running day Sunday.
Friday 6th September
About 12 of us visited Mold's track this Wednesday, and so there was no working part at Daresbury. We were given a right royal welcome at Mold, a very friendly bunch, they even provided lunch (very nice too). Their track is quite different to ours, with hardly any straights, so you have to keep your eyes open and not spend too long fiddling with the fire.Perhaps this explains why certain members ran out of steam! They also have a substantial viaduct, and signals, which add a new dimension to driving, and add a bit more atmosphere (see later). A couple of our guys seemed spellbound by these to the extent that they drove past red lights, naughty spadders. I've come back with lots of photos of their viaduct, will be handy if/when we extend round the pond. Some of their track is founded on piles driven 20 ft into a bog. Driven by hand no less. Last night we had a very entertaining talk from Stuart Daw about 'a year in the workshop'. He has made 28 locos, sundry traction engines and stationary engines, he can certainly work quickly. Some time ago it was suggested that we needed a signal at the departure from the station as you can't see very far round the first bends, and that is a likely place for people to have stopped with some problem. I messed about measuring conduction between the rails to facilitate track circuiting, but it didn't seem to make any difference whether there was a train on the track or not, so the idea fizzled out. I must have been having an off day, because Bruce repeated the measurements and found a huge difference. PaulM has therefore turned his electronic bent to the problem and produced an automatic semaphore signal. This was demonstrated last night, you can see it in a slightly earlier manifestation at  http://www.youtube.com/watch?v=vW3ITpw7g0g&feature=youtu.be The arm is modelled on a GWR centre pivot signal, which has the advantage of being nearly balanced, so the motor driving it up and down has less work to do. In case you don't believe there were such things, go to http://www.signalbox.org/signals/gw.htm, or even to Llangollen station. The box of tricks fails safe, if the connection to the track is lost it goes to danger and flashes the light, if the battery fails the arm returns under gravity to danger, and obviously the light goes out. We are going to set this prototype up at the track and run it for a bit, anyone want to volunteer to electrically connect a few lengths af rail together? Need to use aluminium wire (MIG welding wire) and stainless nuts and bolts or we will get bimetallic corrosion. Denso grease is recommended to prevent corrosion, but seems unobtainable in small quantities, so we'll have to settle for Copper Ease Normal running day on 15th Sept, then the night running bash on 19th. There will be no natter night at Pewterspeare that night, you can natter at the track. Beams are supposed to be coming next Wednesday, so even if it is heaving it down we need some able bodied members to help offload. If there is any change I'll e-mail. I've added some more photos to the website. Sunday 1st September * STOP PRESS * See pictures from today in the gallery courtesy of Dennis Lodge. You've all been champing at the bit wondering why it's late haven't you? I didn't get there on Wednesday as I was taking #1 son to Llandudno for his holidays. However I interrogated Henry today as to what went on
Painting of traverser and steaming bays complete, they look very much better than they did, thanks guys
Replacing main water stop tap, the old one was getting very stiff and felt on it's last legs
levelling of various humps and dips on the main track
adjusting the height on the access track to line up with the traverser
I'll have to revise the to-do list, but don't worry, we won't run out of work. Running day today was well attended, with a visitor from Brighouse (I think) running a very nice GNR Atlantic. Cake was provided in profusion, PaulM's children had made brownies and a sponge cake. In  my usual public spirited way I tried to stop people over indulging by eating lots myself. We had a lash up track circuit, just demonstrating that we could detect trains by changes in impedance between the rails. It works, but it needs something cleverer than just a relay in series, as the resistance doesn't always go as low as you would think. However, some electronics will sort that out. Quite a few of us are going to visit Mold on wednesday, so there will be very few if any at the track. I've put off delivery of the beams until 11th Sept, by when we hope to have some blocks as well so we can get on with the lay by siding. Directions to Mold track are at http://www.moldmes.com/find%20us.html There is no post code on this page, but the college postcode is CH54BR. With this and the directions I'm sure you'll manage Regards
Wednesday 21st August
Lovely day yesterday even tho' at one point it looked like raining. Lots going on, so an enumerated list:
JohnE and StanM carried on painting the traverser and steaming bays, with two of them at it we have the Daresbury school of monochromatic art
Rob Henry Pat et al placed the foundation flags for the layby siding. Just remains for HonSec to chivvy up the beams and that can continue.
DaveM carried on repainting numbers on beams. This might sound mundane, but it is really useful to be able to report 'dip in track at beam 123' rather than the somewhat imprecise 'halfway down back straight'
BillP brought along his revised survey for the extension, this time avoiding the farmer's water tank. 700 ft with substantial cuttings, embankments and a 'bridge or viaduct'. Question, when does a bridge become a viaduct. The French seem to differentiate between 'ponte' over water and 'viaduct' over land, others seem to use viaduct for several spans, but the Royal Border Bridge has 28 arches and crosses a substantial river. The existing bridge approaching the pond will need attention before too many years pass, RoyA did a sterling job patching it a couple of years ago, but it is showing its age.
Pat has suggested that we try to locate the new generator in the container for security. It's certainly worth a try, so some of us cleared out the tool shed and moved the workbenches out of the container. They are actually much better in there, more light and more room. The old grey cupboards are now in the container stacked 2 high, and you can now get the doors open, which was not possible in the shed with all the junk piled in front of it. We now need some discipline not to clutter the tool shed (hint!)
PaulC had promised us a silencer, which he knew was behind his shed. When he went to look for it it had gone, the light fingered fraternity even gets into your back garden, so it's off to the motor factors unless someone has something which will fit a 1.75″ OD stub.
Some years ago, I measured the change in resistance between running rails when a truck was in section. It didn't seem to make any difference, there was open circuit with and without a truck. This rather stymied any idea of track circuiting. Bruce didn't believe my measurements, so he has done the test again. Don't ask me why, but this time it went from open circuit to a small resistance (a few ohms). I wonder if it was dead fly season? . We are therefore going to experiment with some signals probably on the length setting off from the station where you can't see round the first bend. Colour lights to start with, but might develop into semaphores (upper quadrant if I'm making them, none of this GWR nonsense)
Henry and Bruce had a battle of the aero engines. Good job the turntable was locked, because with Bruce's engine clamped to it and going full belt it could have been a re-creation of the Tebay incident
Following a suggestion from GerryM, the website now includes a for sale/wanted section. Fairly straightforward when you enter the price, just put the numbers, no £ sign or it will sulk. There are already several items for sale, so have a look. You don't need to log in.
You will all have received an invite to Mold for Wednesday 4th Sept. If you haven't already done so let me know if you're coming, they need to match visitors to sandwiches!
You will also have received a note for BarrieP about night run 19th sept. We know this is a natter night, last year several people couldn't come to night run (which was in the end cancelled due to the monsoon) as they were otherwise engaged (it wasn't a club night), so this year we're having a natter night at the track, with accompanying locos.
Wednesday 14th August
The generator arrived at the track today in the back of Phil's car. Three of us manhandled it out onto the four wheel trolley where it was quite happy. It then took all of us standing round and prodding it for about an hour to work out how to start it, releasing the emergency stop was a good first move, but it took about 30 minutes to notice it was latched in. We're going to try to get hold of a manual.(if all else fails read the instructions). It is use-able as it is, but it needs a silencer, and would be better if we wired up the electrics permanently. Paul is putting together a list of bits we need , I'll circulate it to see if you have anything useful stashed away.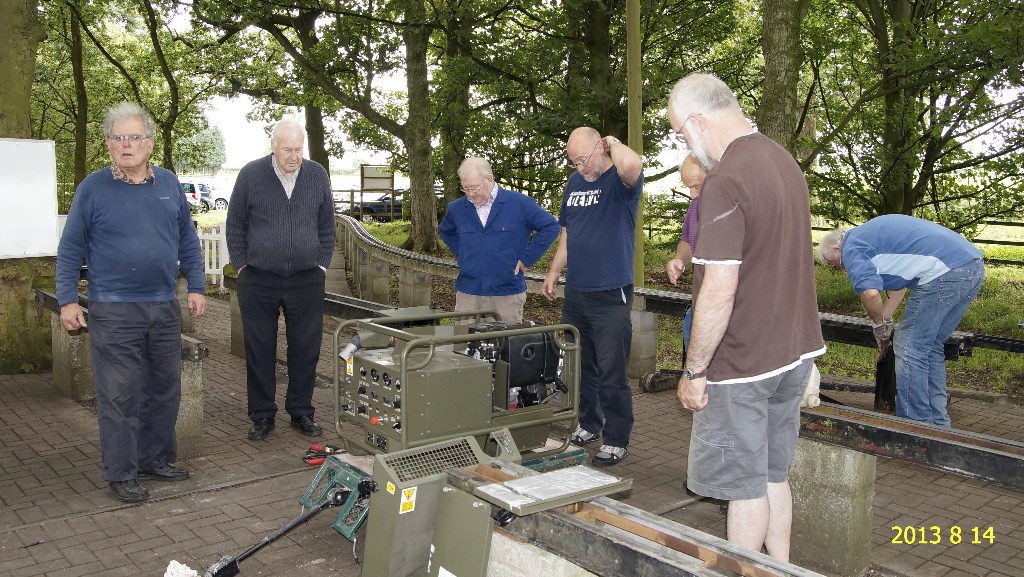 6 men staring at a generator whilst Stan gets on with some work. We did get it running eventually
The new loco loading ramp got its second coat of paint, and Stan (new member) wire brushed and painted the traverser, a job that has needed doing for some time. Rob and Henry have at least started to extend the rails for the swinging link to give access to the layby siding. Tony brought along his class 20, another very nice battery loco. We had to manhandle it out of his car as of course the paint was wet on the loading ramp. I had to leave at lunchtime to do dad's taxi for #2 son, so I'm not sure how far Rob and Henry got, or what happened after lunch. Beams will be arriving soon, and there is the generator to install once we've worked out the details, so plenty of work still to do. See list in pavilion. Natter night Thursday, running day Sunday Barrie is organizing a night run sometime in September, watch this space.
Wednesday 7th August
Good turn out again today, we fastened the new leg to the loading ramp, so it is now operational in its new guise. I gave it a coat of red oxide, needs a coat of black. If you don't pick it up correctly you will trap your finger, so get someone to show you the correct operation. See photo attached. Still loads of jobs on the board in the pavilion, no excuse for having nothing to do. Prospective member Tony Sturgeon brought along his battery electric, it is very well made, and practically everyone had a go. Once it has been painted it will be truly impressive, the sound board and speaker set up was particularly convincing. Photo attached Bruce was measuring up for the new end boards on the red trucks, no doubt these will be fitted next week. These are looking very shabby, someone could take on a project of giving them a coat of paint. Following the EGM, your committee have been keeping an eye out for a suitable generator, and we've found one. As there were 7 committee members at the track we held an impromptu meeting and decided to go ahead. It is ex NATO 5KVA diesel. At a pinch it is man portable (4 pretty strong men!). All being well it will be delivered to Phil's yard this week and we can get it on site next week. We will have to build a small shed to house it, mainly to keep the rain off, but we will probably incorporate some more soundproofing. Portable track did very well at Newton show for the , well over £300, well done the portable track team. This Saturday is LionsMeet at Wirral, my daughter is getting married so I can't go. Natter night 15th, running day 18th open weekend at Leyland 17th/18th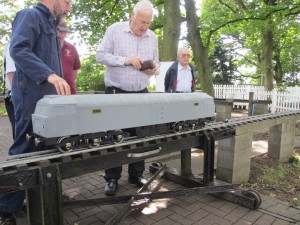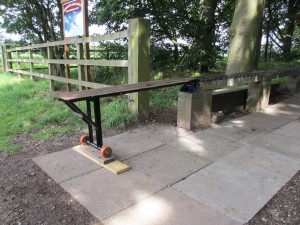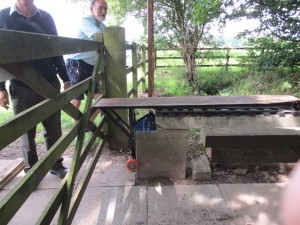 Wednesday 17th July
Definitely too hot today, but a stalwart band filled in and whackered the two collapsed badger sets. Main amusement was me getting a steam test on my latest loco. Photos are in the gallery. All went reasonably well at first apart from bystanders 'helping', opening the firehole door when I wanted it shut etc. Then came it's first lap. Put it into full forward and it accelerated quite briskly, even more so when I shut the drain cocks. Note at this time I hadn't opened the regulator! It was steam tight on test, but as soon as it had a flow of steam it wouldn't then shut. Later investigation showed that the o ring seal had become dislodged and held it open. Back to the drawing board on that one. However, you can drive it on the reverser thought I. Well you can until the lever connecting the reverser to the weighshaft slips. Full reverse was then mid gear! One lap of this was more than enough. It's now in bits again. Fixing the reverser is easy, just drill out the m3 hole and tap m4, and put it in from the other side so I can get a spanner on it. Regulator could be longer term, but it's so hot in my workshop I can only do 10 minute bursts Natter night tomorrow, then running day Sunday. Next Wednesday we will be starting the mod to the loading ramp, so if you plan to bring an engine you might have to manhandle it more than usual. No more portable tracks until 03 August, Newton Town Show
Wednesday 10th July
There was a reasonable turnout for running day on Sunday, what could be better than little steam engines on a summer's day. It wasn't too hot in the shade of the trees, but we did manage to run out of milk, so no tea, calamity. Phil is beginning to master the Sweet Pea, at one point he managed 3 laps without stopping for a steam up. Croft was another good day for the portable track, over £300 Wednesday saw another good turnout, with a range of jobs getting ready for the steam fair including
yet more paint being applied to the railings
semi permanently coupling up the trailer cars (must do something to make this easier, at the moment it is not easy getting the pin locking devices on)
lowering the height of the station platform to eliminate ( we hope) foot boards dragging
cutting and rejoining the guard rail in several places to get rid of bulges caused by expansion, this is possibly the first time we've seen such prolonged hot weather since we put guard rail on the straights, on curves its not a problem it just gets slightly more curved, but on straights it bulges.
blowing all the accumulated muck out from between the sleepers
cleaning out the loo (the honey waggon which is emptying the Steam Fair loos is going to empty ours as well next week)
washing the pavilion floor
a little light tree surgery
repainting the carved log sign by the gate (Bill was actually seen re-carving some of the letters to make it more distinct)
fixing the bench on the patio with new teak boards, they should last a bit.
PaulM has done a temporary fix on the club battery loco (cable broken inside the insulation, that took some finding, as if you bent it one way it joined up again), but it needs more serious looking once portable track days are finished.
HonChair and I spoke to the Steam Fair organiser. If you are coming to help at the Steam Fair bring your membership card and show it to the stewards. They should then let you in. They would prefer it if you arrived before 10, but this is not essential. Keep to our usual route around the field and of course dead slow as there will be pedestrians about. We've marked off  our car park, but if you could share cars it would help, and reduce the number of vehicle movements across the field. Now for an offer you can't refuse. I've just taken apart two petrol powered generators to make one that works, so there is now surplus to requirements a 1.5kW 240/110 generator, powered by a Villiers 4 stroke engine. The alternator definitely doesn't work, but the engine turns over and has good compression, so there can't be much wrong with it. It was seen running some time ago, but now has no spark. Just the project to keep you occupied in the long winter evenings. Any offer significantly exceeding scrap value is likely to be accepted. If you're interested contact Paul on 01925 756595 See you all at the weekend
Duncan
Wednesday 3 July
Another good day on Wednesday, Lots of grass cutting, DaveM carried on painting the railings (and only gave up when he ran out of paint), and the rest of us flagged the load unload area. Very smart it looks too. All the bits for the ramp modifications are to hand but we're not disturbing anything until after the Steam Fair (13th/14th July). Weather forecast for next week is I hear very good, so here's hoping it all goes off well. Long discussion last night about raising the fares to £1.50 for the Steam Fair. Other rides charge £2.50, but it was eventually decided to leave it at £1, but to discourage the Chairman from offering bulk discounts. Receipts a Vicars tea party were disappointing, but it is more of a PR event really to keep Daresbury residents on our side. Portable Track at Croft this Saturday, followed by running day Sunday. We'll be getting all ready on Wednesday. If you can help out at Steam Fair and haven't already signed up can you let DaveM know which days you can come
Wednesday 26 June
Good turnout today, and the weather was kind. Main activities tidying up the site ready for the Steam Fair, The railings at Dryden's Halt received a much needed coat of white paint. The strong winds over the weekend had brought down some branches, no damage to track, but they had to be cut up to restore clearance against passing trains. PaulM brought along the Pullometer, which is now fully functioning in all departments. As henry had brought along his Julliet for a run, he was prevailed upon to be guinea pig.  The jagged line for pull is we think genuine, with only one passenger you can see the drawbar going tight-slack-tight. I'll try it on a heavier train. Yes the speed did fall to zero near the end of the lap, even Henry runs out of steam occasionally.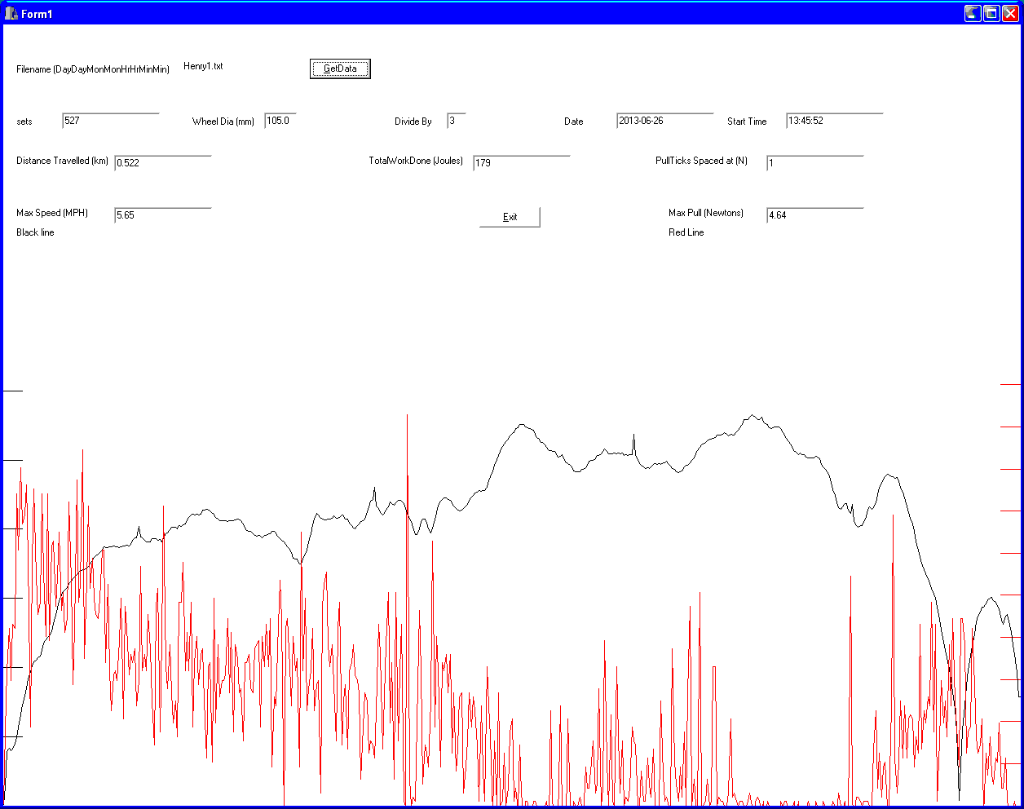 Running day Sunday, then the following Sunday, then the Steam Fair – loads of helpers and locos needed. Portable Track did well at Lymm, £288, see http://www.warrington-worldwide.co.uk/articles/16030/1/Historic-Transport-Show—a-classic-not-to-be-repeated/Page1.html for a photo. I've asked for a copy for our archives. Next portable track events are: 29 June Daresbury vicarage tea party 6 July Croft Carnival 3 August Newton Carnival Plenty of work to do still at Daresbury on Wednesdays. The traverser is desperately in need of painting, and that will keep someone going for a few days. Paint and brushes provided. Flags and blocks for the layby siding should be with us next week, together with flags for the load unload area. Tea and banter free to all participants.
19 June 2013
It's been a few weeks since I last metaphorically put pen to paper, mainly because of inertia on my part. The round tuits have now arrived, so read on. Steaming days have been very successful, particularly last Sunday when Paul C brought a huge consignment of relatives and kept the locos very busy, a good day was had by all. A group of us went down to visit Sir William McAlpine's railway at Fawley Hill. Thanks to Pat for organising it. The sight of a poor little saddle tank flogging up a 1 in 13 hill is something to behold, and an exercise in engine driving and firing skill. Keeping the water above the firebox but not priming when it goes along the switchback railway must take some doing. The museum contains an eclectic collection of railwayana, from the usual tea services from long lost railway companies, through some beautiful live steam models to complete bridges rescued from various developments. Must be handy to have your own civil engineering company. There is a reference to us in latest ME, the field markings (see DG 10th April) are we think the left overs from horse shows of old, just shows how long these things last. They have now been eradicated by the plough. We have got a long way on with improvements to the engine loading ramp. Swinging it over by hand was always a bit iffy after the steel plate was attached, making it a lot heavier. We've made the bits to alter it so that it wheels back on top of the track on the concrete beams, however we're leaving well alone until after the steam fair, the last thing we want is for something unexpected to occur and to be unable to offload locos. We are also going to pave the area where we load/unload, not for vehicles to drive on, but it is a lot irregular at present and we don't want anyone tripping when moving a loco out of a car. We have the go-ahead to build a layby siding between the up and down lines. This should help with storing trucks, which can get a bit awkward at present. The thing that is stopping us is finding a reasonably priced supplier of concrete beams, the last one we used seems to have disappeared. 9″ wide, 4″ deep 6 ft long, with 2 rebars. Anyone got any ideas? I asked in the builders merchants, they were over £200 each, which I thought a tad expensive as the last ones we got were about £30. The EGM went off on Thursday. Although the generator in question is no longer available, it was felt we should decide in principle whether members were in favour of having an electricity supply on site. 31 members attended  the meeting, 20 voted for, 8 against, so 3 must not have voted. Don't hold your breath, offers like this don't come along every day, but at least if another is identified we can act with alacrity. Portable track events in near future, help with portable track always welcome: Lymm Historic Transport Day  (Sunday) vicarage tea party at Daresbury on 29th, Croft carnival 6 July Running day 30th June, then 7 July, followed by Steam Fair 13/14 July, lots of help needed to help with herding the floods of passengers Events at other clubs Open day at Southport 29 Jun Open day at Lancaster and Morecambe 6 July IMLEC at Leyland 12-14 July (clashes with steam fair) Hunslet locos open weekend at Wirral 13-14 July (clashes with steam fair) That's all for this week
15 May 2013
It rained this week, so we didn't bother. Why then am I wasting your time? Despite the downpour of Tuesday night, lasting well into Wednesday, by Thursday the track was dry again. The new drainage is certainly doing its stuff. Just to keep you happy, I've put a copy of a document 'Safe Operation of Pressure Systems for the Model Engineer' on the website, click on 'pressure systems' on the top line. This is a most user friendly explanation of the very reasonable system now in use. Running day Sunday, Rainhill Carnival Portable track 27th May, contact Steve Hudson if you can help My loco is now in hundreds of pieces all over the house whilst I paint it. Might have been easier to paint it as I made it, but then it would all have got chipped. There must be someone out there who actually likes painting and is good at it, I am neither
8 May 2013
Sorry, not much happened today other than a lot of tea drinking!
1 May 2013
Lovely day today, although I could call it a Standard day, as we had no less than 2 Britannias, Paul C and Barrie P. I'm not going to comment on which looks best, but if anyone finds any bits of loco around the track they probably belong to Paul (bits kept falling off). I challenged them to couple up back to back and have a tug of wear but no takers. We also had DaveM with his Vale of Rheidol, and David P turned up just as I was leaving. I've seen fewer locos on an official running day. Henry was kept busy boiler testing, and Mike P disappeared with sledgehammer and rammer to smash up the half bricks I'd dumped in the hollows in the road. I reckoned that continued running over by cars would eventually have the same effect, but it is much better now
24 April 2013
The reinforced access track is back in position, so no difficulties getting trucks out now. It was a running day on Sunday. I'm told it was very busy early on, but by the time I was ready to go it started raining, and by the time it finished there were only 3 locos left, perhaps I should just get up sooner Lovely weather on Wednesday and a good turnout. Henry's Simplex was up for steam test, and Bruce had his Pug, so plenty of opportunity for playing trains. More black paint was applied to steaming bays, then the paint ran out, so there are still some red bits, but it looks a lot better now. We've got a lot of rubble left over from replacing beams, digging out for block paving etc. If everyone puts a couple of bagfulls in their boot when they are driving away, and then dumps it in the low spots on the access track, we'll soon improve the bad bits for very little effort. Don't forget Llanberis trip this Saturday
17 April 2013
No gazette this week due to the majority of the Wednesday contingent swanning off to Crewe Works!
10 April 201
The first steaming day of the season went off well, I've put some photos on the website The track is now completely dry. As it was still wet last Wednesday I didn't expect it to have dried out so much, but in the meantime, our landlord has sorted out the drainage, so where it was soggy. it is now sandy. The water level in the ditch at the back of the pavilion has also dropped significantly. The Wednesday gang piled more earth into the collapsed burrow in the second field, there is a huge cavity under there, so I expect this to be a running job until it's full. JohnE brought his King Arthur for steam test, and then reeled off quite a few laps. I've never seen it run so well. Phil brought along a part built Isle of Man loco he has bought on flea bay. It needs a bit doing, but the boiler looks OK, so if it passes testing he has a very good start. Next Sunday is not an official running day, but if you're intending to run you will find that the loose piece of track to access the carriage shed road next to the running line is missing. It sagged alarmingly under the weight of 2 empty trucks, so I've brought it home to weld on some reinforcement. We've left 2 off 4 wheelers and an 8 wheeler on the road next to the pavilion, if you need more you can collect the reinforced bit from my house (or hand ball the trucks, but they are awkward to manhandle) Now an interesting puzzle. Bob Chedzgoy has pointed out that if you go on Google Earth and zoom in on the fields to the west of the track, you can see crop markings, big rectangles with the corners rounded off. Does anyone have any idea what these might be. Small prize for the most amusing answer
3 April 2013
Beautiful weather today, fields passable with reasonable care, everyone drove across. We actually had a loco running, BarrieP brought along his recetly rebuilt black 5 for steam test and gave it a run. The excavatio team had to go and dig out the snow at the top bend, but much less snow than last week, it will probably all be gone in the next few days. At one point we had 4 trucks, 8 people and a load of iron weights behind the loco. He reckons the fire was jumping about on the bars going up the hill.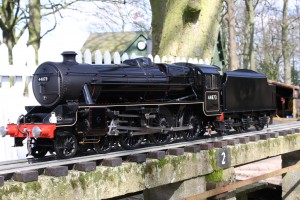 We then turned our attention to the first beam on the steaming bay access road off the swinging link. This had been knocked loose, so we had to remove it. clean out underneath and glue it back down, this time with a stud into the top block. Please when operating the swinging link withdraw the bolt until it locks back, then move it to the correct position and take the weight off the lock before unlocking and feeding the bolt back in. If you just get it nearly aligned then pull out the lock, the concrete beam can move visibly, and be shaken loose from the pillar. If you leave the bolt out, when it hits the concrete beam it will knock it loose. Auction night tomorrow, then running day Sunday. Trip to Fairbourne is 15th April, let's sort out transport tomorrow night.
27 March 2013
A few stalwarts braved the blizzard today, it did snow quite heavily for a short time whilst we were there. Plodding through about 8″ of snow in the second field, talk about Scott of the Antarctic. Far too cold to do any real work, and anyway with the running season so close we don't want to start something we might not finish in time. We had a merry bonfire to tidy up the site, and then drank a couple of gallons of tea. Here's a project for someone. If the present unseasonal weather continues, we'll need a snow plough.  See attached photos, the snow drift is about 2ft deep If you haven't already paid your subs, you can save the trouble of writing out cheques etc and pay direct to the bank. Our account number is 70975931, sort code 20-96-37. If you do pay this way, please drop me an e-mail as the bank don't tell us, so HonTreas will continue to harass you. Don't e-mail HonTreas, his computer has died so it's back to the quill pen for the accounts. If you're really stuck for something to read, back issues of Daresbury Gazette are now on the webpage Next meeting 4th April Auction Night, your chance to sell the stuff you bought last year in the frenzy of bidding. 
20th March 2013
good day today, with a good turnout. I tried to gloss paint the new  steaming bays, but I had to give up, it was just too cold and the paint wouldn't flow out, hence the 2 tone colour scheme on the attached photo, Others set about levelling the track at the top bend where we've eased the curve, and doing the annual track inspection. Track is now complete and passed off for running. First official running day is 7 April, but nothing stopping anyone having a run before that, just ensure there are 2 people minimum. The boggy bit in the second field is passable, but those of us who have not been carrying anything to track have still been walking, no point chewing it up unnecessarily. We've got an embankment and a steel bridge, but one of the features of full size railways we have been without is a cutting. This deficit has now been rectified. Up at the top where the foot boards are very close to the ground, a narrow trench had been excavated to give clearance. This has now been widened to make it easier to walk along the track. Not quite up to Sonning standards, but I wondered at one time if Rob was ever going to stop with his mattock. We also had some discussions about improving the loading/unloading facilities. The present ramp is fine once it is in place, but is very heavy to swing over, a 2 man job really and then still awkward. Three schemes are under consideration:
Move the present ramp back towards the hut so that its leg is just inside the gate but the nose pokes into the field, and improve the hinge. This is pretty easy, and we know it works. Height adjustment would be by inserting timber packing twixt leg and ground, it is not heavy just to lift a few inches, although eventually we could come up with a jack arrangement. Single leg jack would not be very stable.
We've been given a motorcycle lift. Propose to install this just inside the gate. There is significantly more work involved in installing it, it needs to be converted from air/hydraulic to manual hydraulic, and the top deck needs to be made longer (currently durbar, wouldn't want to roll a loco on it as it is).. I don't think the last two are such big jobs, and can be done as homework jobs.
lay flags outside the gate to give a good level surface and use a  pump up trolley. This sounds good until you consider one member transports his loco coupled to the tender, and it is very heavy, so we would need a very long trolley, which would be perhaps difficult to manoeuvre.
we're not about to leap into action on this, if you want to contribute come along on a Wednesday, it all makes more sense when you can see the actual setup. Tomorrow night is AGM, hopefully not too long, but you all need to come and pay your subs afterwards. Website will be down this weekend. Paul M (new webmaster) is updating it. Your login name and pasword should not change. Any difficulties give me an e-mail.. This is the most up to date source of info on club events and outside events to which we have been invited. It also contains lots of useful? stuff like the up to date rules, membership application forms etc. In the members only pages is a list of members. If you wish to make your phone number and e-mail available to other members you need to log in and update your preferences (if you haven't already done so). We also need some more up to date photos, I'll paste in those I've been sent in the past few months as soon as I've been instructed in the noble art of website editing.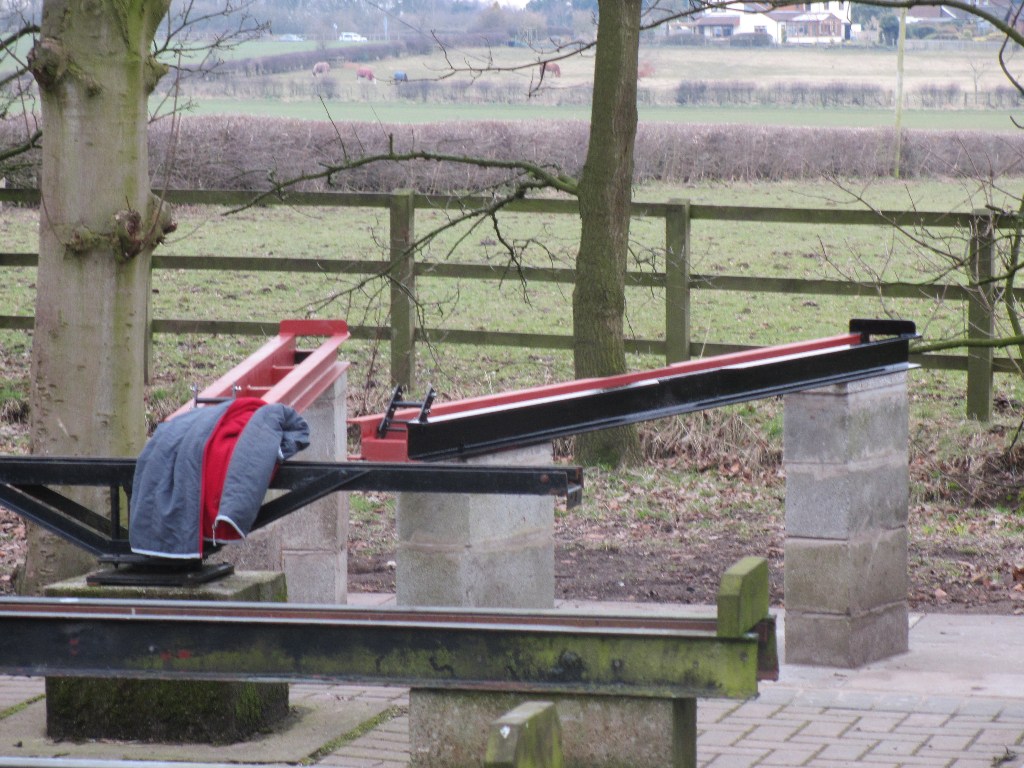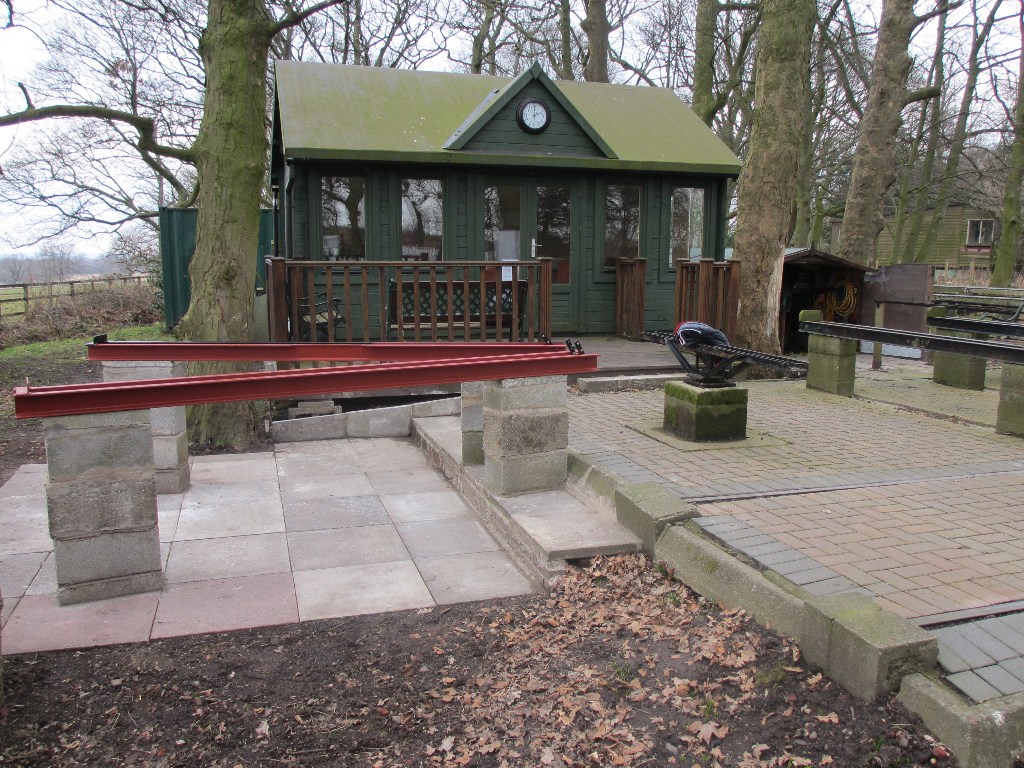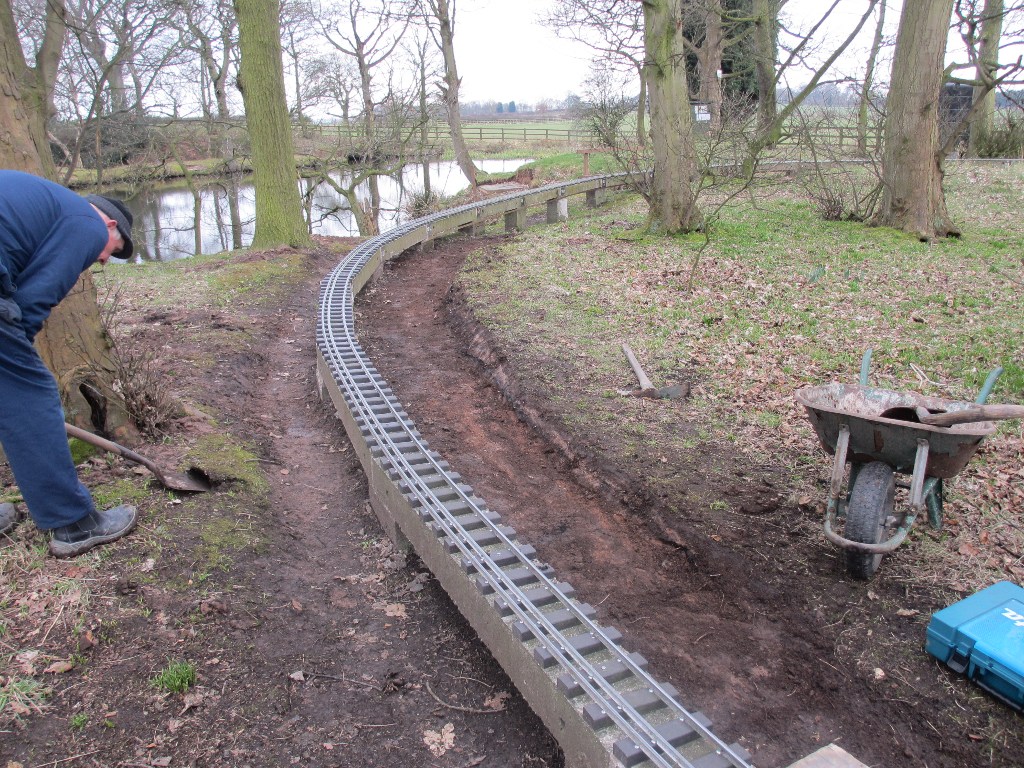 13th March 2013
Spring was in the air today, but it did get a tad nippy later on. The brake levers on the final truck were modified, and so all trucks are now ready for the running season. Some wise person once commented that the last 10% of a job takes 90% of the time, but I think I can now say that the flagging round the new steaming bays is now complete, even tapered edging against the decking. The steel rails are in position, and have been wire brushed and given a second coat of primer, no point putting gloss over rust. Because my fingers were cold by this time I finished up throwing the pot of brush cleaning fluid all over my jacket, it's gone from a fetching yellow to a dirty red, but it cost me nothing so I'm not that bothered. We then had a most productive meeting with our landlord over access and other issues. More details at the AGM, which is of course 21st March. You should have received documentation by separate e-mail, if not get in touch and I'll send it again. Response to my e-mail on bus to Harrogate has been underwhelming to say the least. I need reasonable notice to arrange one, if there is not sufficient support it won't happen. 6th
March 2013
I didn't do a bulletin last week as my computer has been out of sorts. Not a complicated software issue, one of the fans seized up. The so-called direct replacement didn't fit, but a bit of work with a small file taught it some manners and now I'm back in operation. This therefore covers 2 weeks. Last week the collapsed burrow in the second field was attended to and several bags of sand/cement were transported across using the little 4 wheel cart and man haulage. Next stop the South Pole. The field had dried out to such an extent this week that Dave Martin took a load of flag laying sand across in his Land Rover, then this afternoon we got some really good news VEHICLE ACCESS ACROSS THE FIELD IS ONCE AGAIN ALLOWED. There are some biggish ruts in the first field, so mind your exhaust. I must ask that you use some initiative, if we go back the the monsoon and conditions deteriorate, don't go chewing up the field again. The pillars were drilled to hold down the new steaming bays and the bolts bonded in. This week we made major progress. The area round the new steaming bays is nearly flagged, and the steelwork has had a coat of paint where it will be in contact with the concrete. It's too cold to expect it to dry quickly, so if you're up at the track mind you don't get fingermarks on my creative genius. We made a start on the pre-season truck inspection. The 4 wheelers and the old red trucks passed, but we found a problem with the 8 wheelers. The brake actuation levers were fouling on the bogie structure meaning that some of the brakes only work on one side. Careful measurement shows that the bogies on one truck are different to the other three, and on that one truck there was not a problem. This must be put down to a design fault in the proprietary bits. However we have established a solution, and implemented it on two of the trucks. The third will be done next week, and so all trucks will be ready for the start of the running season. We still need to level the track at the top end, but if you want to test out a loco the track is available, just go very slowly at the top end. The first running day would traditionally be the first Sunday in April, the 7th. If anyone wants to have a running day over Easter (Easter Sunday is 31 March) let me know, Sunday or Monday. The exhibition at Manchester was very good, and our stand was well received. Congratulations to the organiser. All being well we'll be back next year. Not as many trade stands as you get at Harrogate, but the other branches of modelling are quite fascinating, from detailed 00 gauge trains to 1/3 full size Spitfires and a large scale model of a Vulcan with no less than 160kg of thrust. Now for some proposed jollys. Paul M has worked out prices for a trip to the pumped storage scheme at LLanberis (http://www.fhc.co.uk/dinorwig.htm), see attached flier. We can fit in a visit to the slate museum (http://www.museumwales.ac.uk/en/slate/), Llanberis lake railway (http://www.lake-railway.co.uk/index.php/en/) and/or a trip on the Snowdon Mountain Railway. This relies on filling a 29 seater bus. we've not fixed a date yet, if you're interested let me know whether or both of weekend or weekday. We haven't run a bus to Harrogate of recent years due to lack of interest. This year it is 10-12 May. If you're interested let me know which days you are available. Cost depends on how many, once I have an idea of how many I'll let you know the price before final decision. We won't be bothering with fish suppers, I know this made it a long day for some and put off repeat visit. Tomorrow night meeting is the History of the Weaver navigation. we've had this speaker before and he was good, so turn out and make it worthwhile.